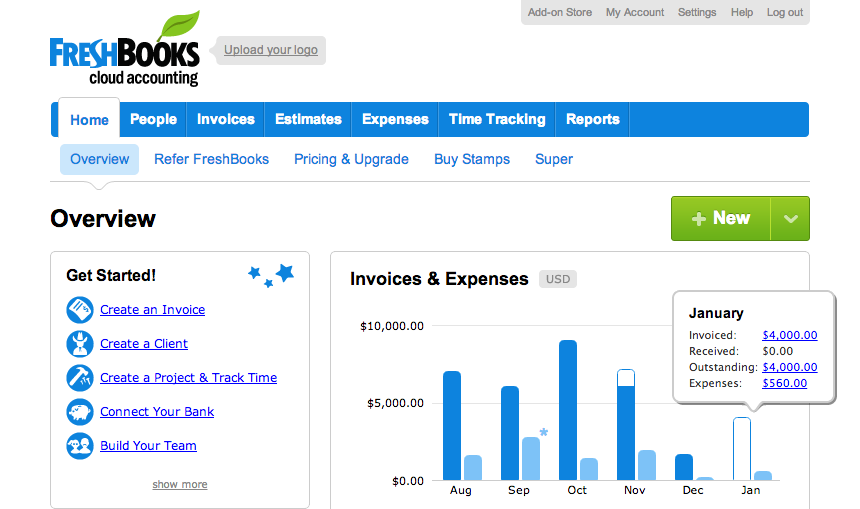 Our experts perceived FreshBooks as one of the most user-friendly and customizable invoicing system, with a plethora of payment automation and time tracking features. According to them, this is one of the rare systems that gather all accounting functions under one umbrella, and allows team members to access information regardless of their location. FreshBooks is available on mobile devices as well, which means your staff members can work together and accomplish their assignments even when not in office.
One of the benefits we consistently note in our FreshBooks reviews is that its tracking time is probably one of the coolest feature in this system, the same as capturing different expenses, and accelerating payments. The entire feature suite is subjected to customization, and there are automated notifications and alerts to spare you the trouble of arguing with clients for late payments. In this case, all payments and expenses will be managed per project, and you will get to attach files for each of them.
According to most FreshBooks reviews easily handles the entire invoice-to-payment process, and does so in a smart and easy way. Initially, it will streamline the invoice delivery process, allowing you to track each email you've sent, and confirm the payee has received it and opened it. The system stores all of your bills in a single database, including pending invoices for which the system will send overdue reminders. For each of them, you can attach receipt snaps as a proof, and log expenses based on them. At the same time, it will be up to you to decide whether you're going to charge clients per hour or suggest flat payment rates. You don't have to worry about calculating payments – the system does this automatically for every project, and takes taxation into consideration.
The payment flexibility shouldn't be neglected either, as the system allows MasterCard, Visa, PayPal, and Amex payments. Customers can be billed in any currency you choose, and receive the bill in their own language. All documents can be branded with your company's name, logo, and contact information.
Another important reason to consider FreshBooks as your next accounting system is advanced reporting, because the system can generate profit and loss reports automatically. All reports are exported in CSV and Excel formats.