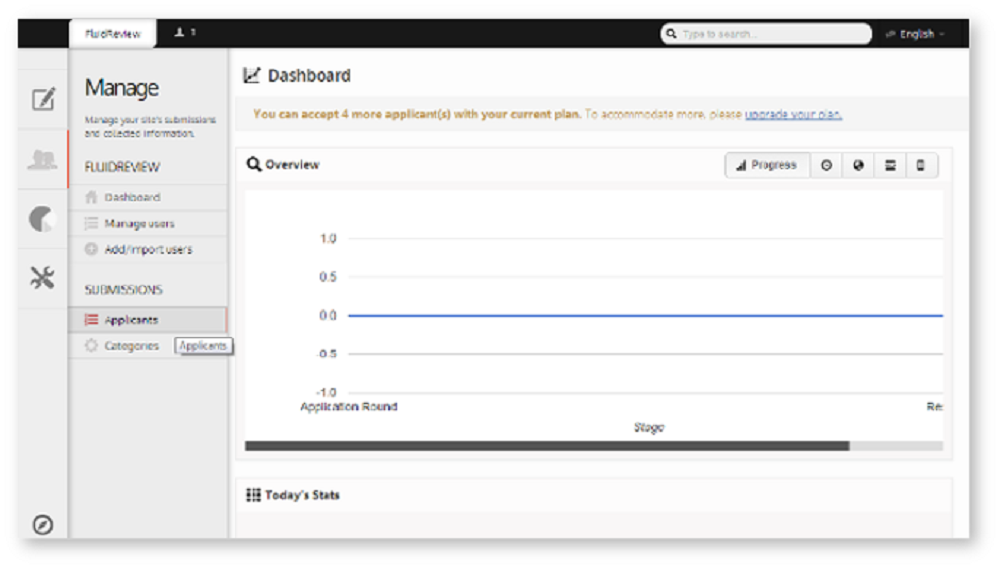 The main benefits of Fluid Review are its centralized dashboard, seamless upload and filing process, integration with Fluid Surveys, and customizable application forms. Here are more details:
Centralized Dashboard
Fluid Review helps lessen your staff's workload and lets them get more tasks done. It offers its users complete visibility of their business operation through a single dashboard. This feature gives users easy access to information, authentic statistics as well as figures, which they can use in making smarter and better decisions.
Seamless Upload and Filing Process
The platform makes the process of uploading and filing pictures, documents and files easier, which accelerates the applicant review process. Once your website is up and running, your target individuals or applicants can immediately start viewing and filling out forms and put in the needed information.
Fluid Surveys Integration
Fluid Review offers integration with Fluid Reviews, allowing users to design smarter and interactive online forms and put logic-based, simple questions as well as data validation filters. In addition, there are over 35 kinds of questions that help you get the most relevant and needed information out of the applicants.
Customizable Application Forms
Each organization has different needs. Fluid Review completely understands this so it allows users to customize their application forms according to their requirements. It offers tools like website builder and rule setting. Functionalities that let users craft their own designs when it comes to review and approval formats are also available, helping users ensure that those formats align with the organization's needs and goals.