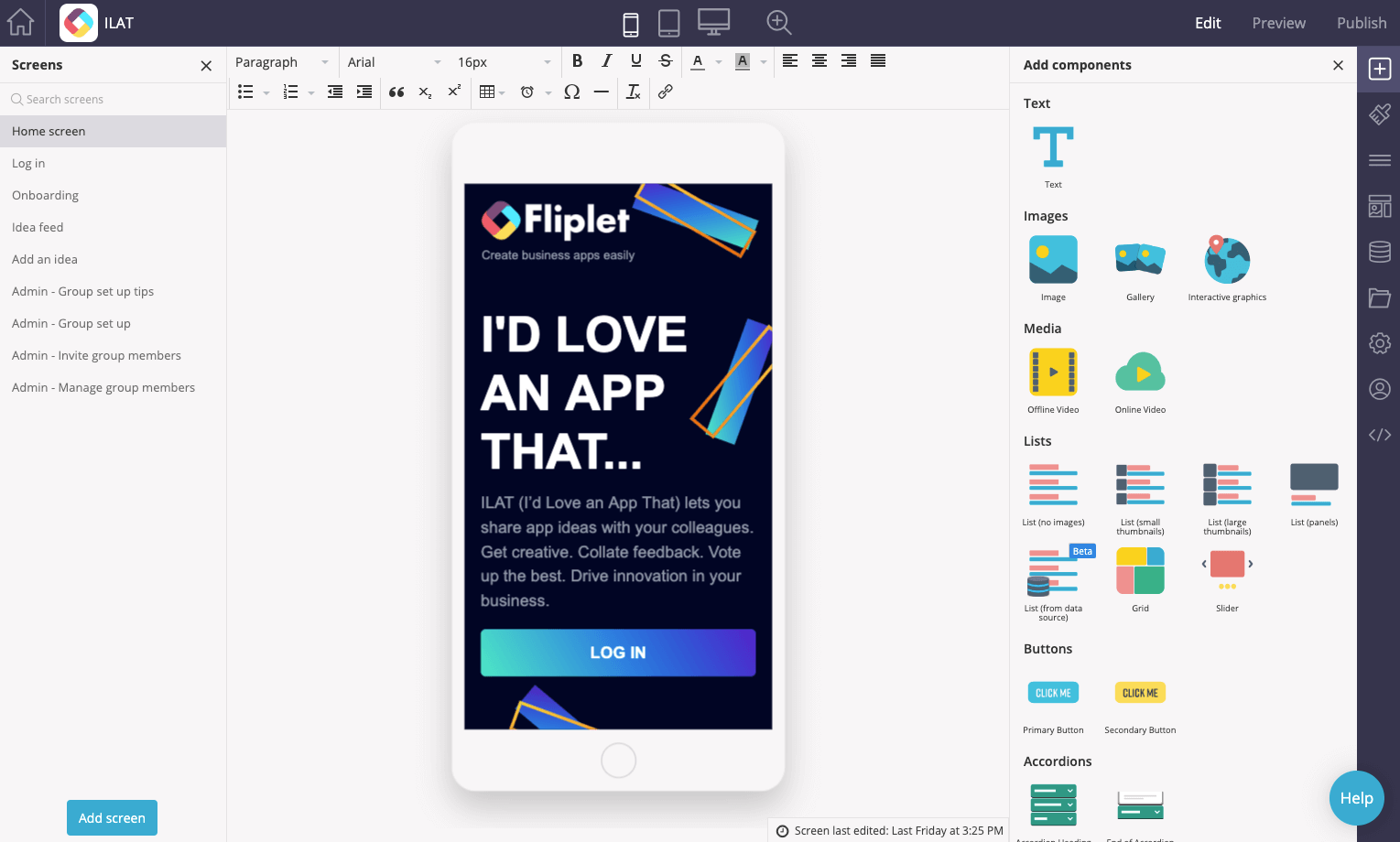 The main benefits of Fliplet are, it permits you and your team members to produce, enhance, and publish applications without doing any manual or hand-coding, allows the rapid publication of applications to different application stores available online or in-house, supports the automatic updating of applications, and lets you produce applications for various purposes. The discussion below gives you more detailed insights into how Fliplet can accelerate and enhance your application building process:
Create, Enhance, and Publish Applications Without Doing Manual Coding
Fliplet permits you and your development team to produce, provision, and publish web and mobile applications without performing manual or hand-coding. This makes the tool very intuitive to use yet powerful enough to cater to your own application development needs. Equipped with a simple drag-and-drop user interface, Fliplet can be used by employees or team members who do not have deep knowledge and extensive background when it comes to IT and coding.
Rapidly Publish Applications to any Online or In-House Application Store
The application building and development doesn't only allow you to rapidly create, modify, and enhance web and mobile applications but also lets you publish them right away. One your done with your build process, you can make your applications readily accessible from Google Play Store, Apple App Store, or Windows Store. If your organization or team has its own application store, you can immediately publish applications there as well.
Automatically Update your Applications
Fliplet can automatically deliver modifications and updates to the applications you are building. This way, you can make your applications more optimized and powerful and produce great user experiences. In addition, your application users won't experience issues or problems as you deploy updates to your applications. Actually, they can access the application modifications and updates you have recently made without re-downloading the applications, helping you maintain their productivity and avoid disruptions.
Produce Applications For Whatever Purpose
The tool permits you to build and publish whatever types of applications your internal users or customers need. You can create applications for specific groups of persons or for an entire organization. If you want to produce on-demand applications, that is made possible, too. In other words, you can build applications for whatever purpose, enabling you to harness your creativity as well as serve various needs.