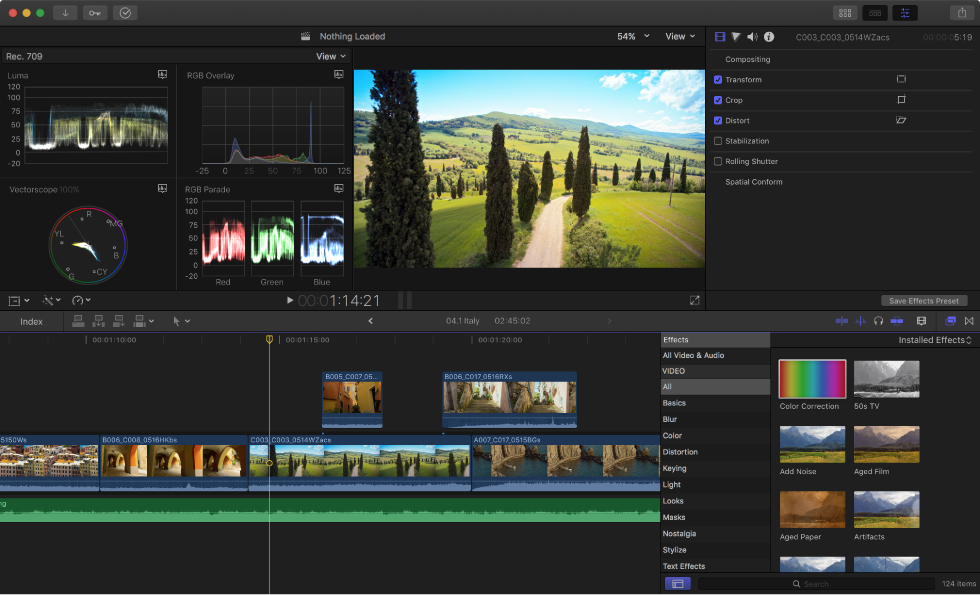 The main benefits of Final Cut Pro are, it seamlessly edits video, its VR handling features, organized assets, 2D and 3D titles, and fast video completion. Here are more details of its benefits:
Seamless Video Editing
Final Cut Pro's Magnetic Timeline makes editing easy and efficient. With it, users can move and trim clips without affecting the rest of the video, as well as color code them so identification is easier.
Heavy and complex projects are a breeze with Final Cut Pro because of its powerful architecture that takes advantage of the newest CPUs and GPUs that come with Macs. Users can fully expect a smooth and speedy experience with the application.
VR Handling
Final Cut Pro's 360-degree viewer is a great tool for editors looking to create VR videos for immersive experiences. This feature allows users to see their work from every angle and also lets them make changes using simple tools. Applying graphics and effects like texts and blurs can also be done easily.
Organized Assets
Final Cut Pro's tagging feature makes it easy for users to organize and pull up video and audio when they need it. Rather than digging through their files to get the asset they need, editors can now quickly find them, freeing them to do more editing work instead.
2D & 3D Titles
Multiple features are available to editors to help enhance their work. With Final Cut Pro, users can use motion graphics templates, video filters, and video effects. If that's not enough, third-party tools and templates can be used to expand them.
Impeccable Sound
With Final Cut Pro, there's no need to switch to a different program to edit audio. There are built-in tools that let users modify their audio, like removing background noise and optimizing sound levels. Not only will your work look good, but it will also sound good as well.
Fast Delivery
Editors know that rendering can take a while but that's not the case with Final Cut Pro. Because it runs on the processing power of multi-core, multi-thread machines, videos are completed at a much faster rate