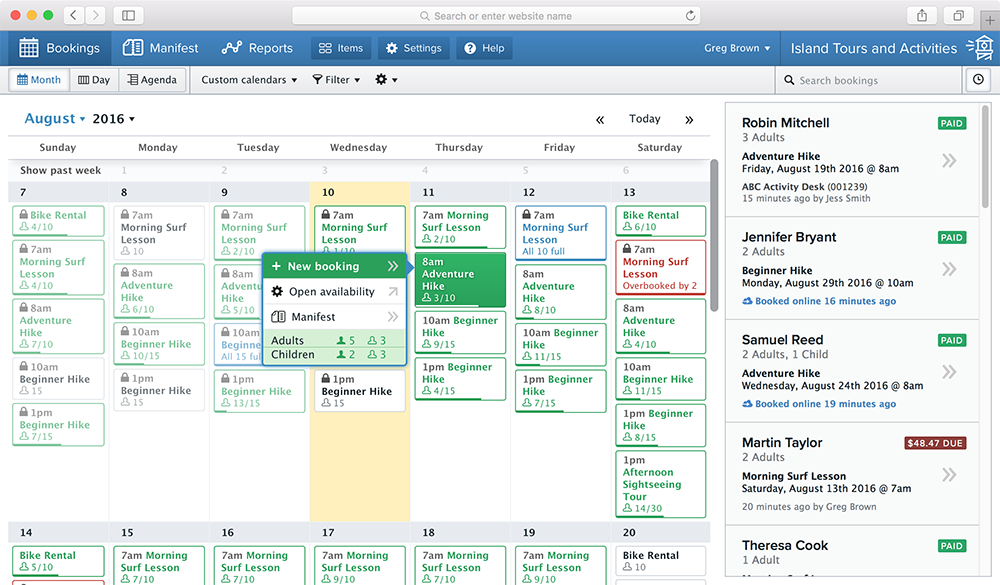 The main benefits of FareHarbor are simplifying booking and scheduling for clients and staff, allowing customization on the platform, and optimizing checkout processing. FareHarbor provides a suite of incredible booking and scheduling features and tools intended to support the capabilities of administrators in tour and activity business. Marked as the best reservation and board management solution for organizations in the tourism industry, FareHarbor makes it simple for clients to get to know the framework and figure out how to completely expand the product to its fullest potential.
With the help of the Onboarding master, new users of FareHarbor will be trained using a one-on-one approach to make sure that they are prepared to get things done accurately. The company behind the product also offers round-the-clock support from the organization's Denver-based marketing and customer service teams. The team will give reliable technical, hands-on assistance to users whenever, wherever, without additional charges.
With the software, users get a straightforward and extremely intuitive booking interface that consistently integrates with any site. Its customization features allow users to personalize the platform to fit their brandings and services, regardless of whether they offer bicycle rentals or take vacationers for a whale-watching experience.
Since the majority of the online reservations are made offline, FareHarbor guarantees that you don't miss out on any booking and scheduling changes. Regardless of whether it's outside business hours, you can still manage your business with the help of a live dashboard.
This software ensures you to get the most ideal experience with the help of simple-to-use calendar widgets and easy on-screen checkout processing. Also, users can track important performance indicators and metrics such as cart abandonment and conversion rates, furnishing you with the idea on business aspects that require prompt attention and enhancement so you can offer augmented services and better client experience.