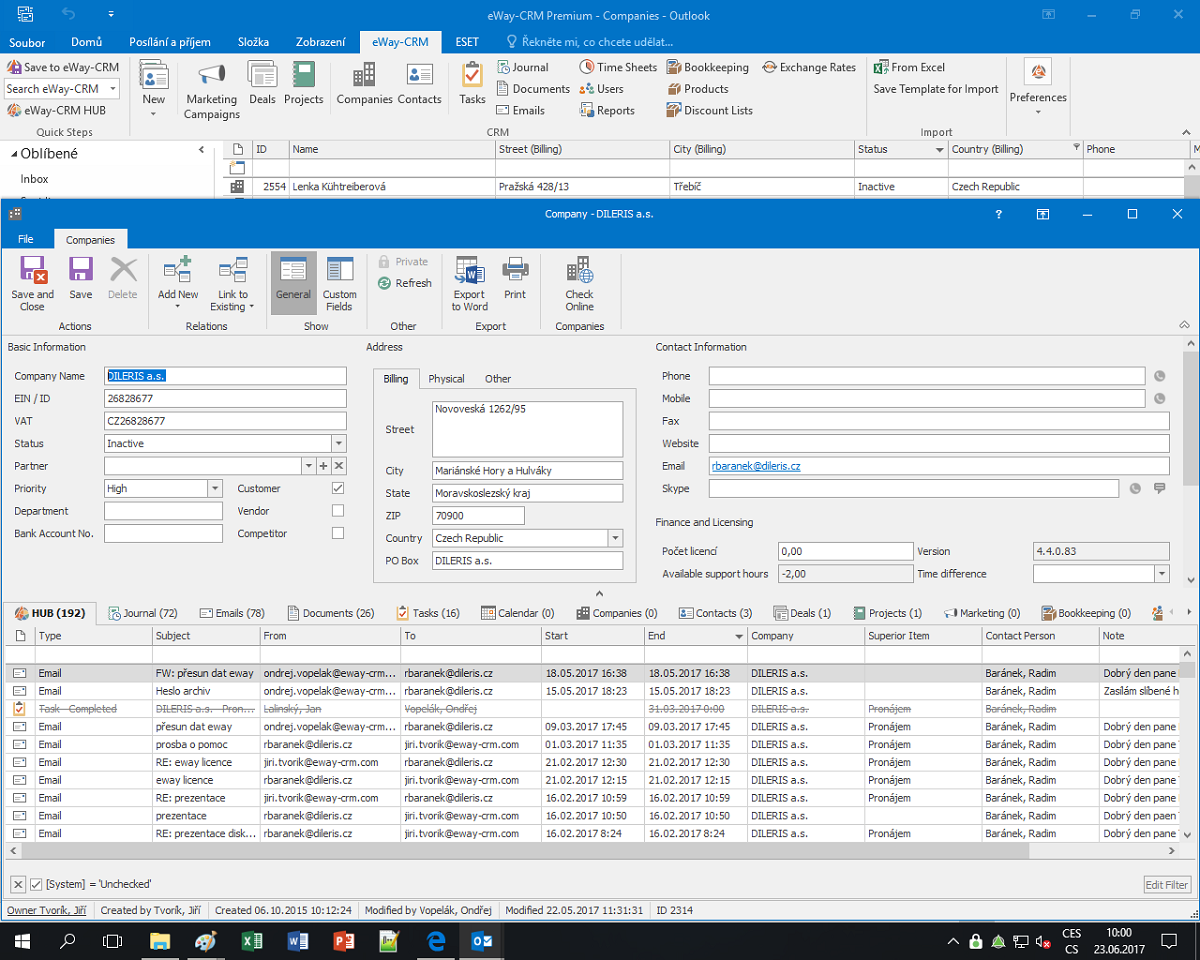 The main benefits of eWay-CRM are its capability to turn Microsoft Outlook into a centralized communication hub, capabilities to improve customer relationship and engagement, feedback-driven marketing process, lead module and project management module and the ability to generate detailed reports. Here are more details:
Turning Microsoft Outlook into a Centralized Communication Hub
eWay makes it possible to turn Microsoft Outlook into a centralized hub for all the user's contacts, suppliers, vendors, and customers. As a result, Microsoft Outlook becomes a place where businesses can manage their communications. eWay-CRM keeps its user's contact organized and well-segmented. Contacts are also filtered according to custom or preset fields.
Improve Customer Relationship and Engagement
eWay offers tools and capabilities that can help you ensure the delivery of excellent customer service. It makes sure that no important meeting or event is missed through tracking customers and making notes on your behalf. It even offers a personalization capability that allows you to craft and send personalized messages to your customers. The platform also monitors the open rate of the messages and notifies you once a message has been opened by the recipient.
Feedback-Driven Marketing Process
eWay CRM is specifically designed to convert your customer data into actionable intelligence. It directs customer's behavior, collects necessary data, and helps businesses make better decisions based on actual data and not guesses. The platform comes with drag-and-drop functionality as well as an easy-to-use text editor, which helps you prepare attractive marketing messages with ease.
Lead Module and Project Management Module
eWay CRM comes with different modules including lead module and project management module. The lead module is dedicated to producing workflow diagrams, which keep all members of the sales team on the same page as well as to manage individual business cases. The Project Management Module, on the other hand, helps you manage existing projects and create new ones. It comes loaded with features including the lead-to-project capability. Also, it automatically imports communication history with very important clients in your tasks or projects, ensuring that agents will capture all information crucial to the project.
Generating Detailed Reports
The platform supports different types of reports including but not limited to finances, agent performance, sales efficiency, customer communication, and more. It also enables users to craft custom summaries for particular activities. The reports are exportable as PDF, Excel, and Word files and are ready to print.