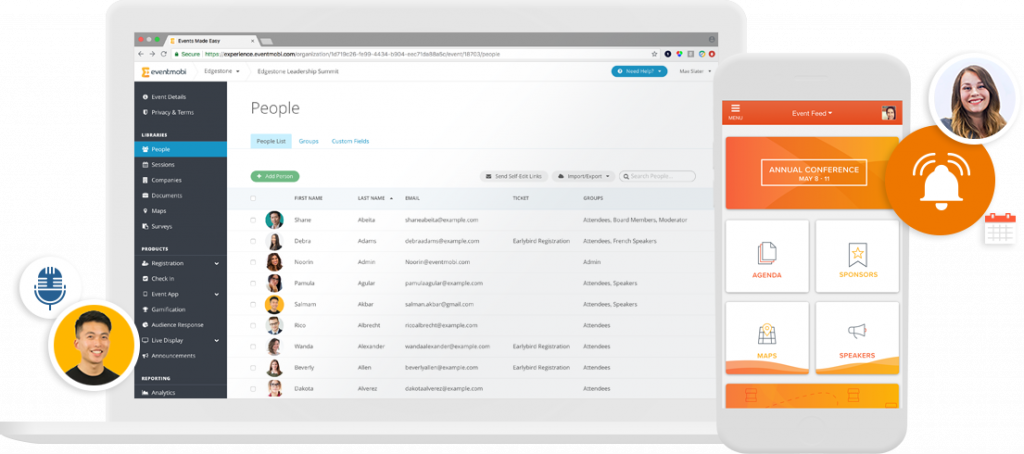 The main benefits of EventMobi are the end-to-end event experience platform, high customizability, gamification, its support for multi-event management, and analytics and reports. Here are more details
End-to-End Event Experience Platform
EventMobi streamlines an entire event lifecycle. It features tools such as messaging, group discussion, and activity to encourage seamless and open communication as well as networking. It also provides push notifications and alerts to schedule reminders and ensuring that all event attendees are informed through updates. It has everything you need to manage an event right from registration, sending email invitations, and registration collection.
Highly Customizable
The platform provides features that enable users to customize their events. Its advanced designer feature can be used to create a beautiful and on-brand design. You can tailor logos, imagery, and colors to your style. If you have a future event and want to change the existing design to match the style of the upcoming event, you can simply edit the CSS anytime.
Gamification
Gamification refers to a process of applying the elements of a game such as competition and points scoring to a particular activity to boost engagement. With EventMobi Gamification, your event will never be boring. You can reward your guests when they attend sessions, interact with other attendees, or visit exhibitors. You can choose and set the objectives and rewards for a more personalized experience.
Supports Multi-Event Management
EventMobi allows its users to manage numerous different events in a single platform. Attendees can, therefore, access the past events, existing ones, and even the future events in your event portfolio to increase multiple registrations. They can also view the session information and venue details in the app, making the event experience more convenient.
Analytics and Reports
EventMobi provides you with post-event and end-of-day reports as well as live analytics, all of which can give you valuable performance insights. Hence, you can know which part of your event needs improvement or which sessions attendees enjoyed.