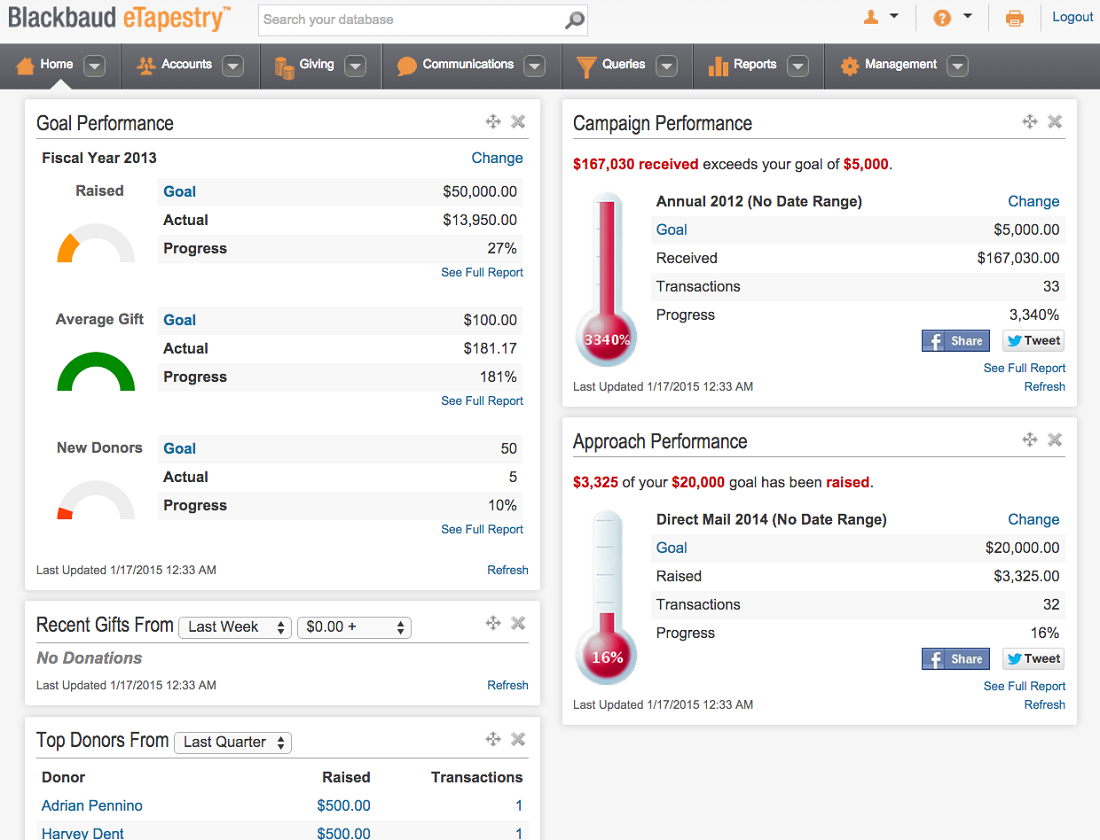 The main benefits of eTapestry are its multi-channel fundraising capabilities, event management tools, superior security, reliable reporting features, built-in payment processing, and social media finder service. Here are more details:
Fundraising through various channels
Organizations can integrate many channels on their fundraising activities, which could be a good strategy for getting better results because diversified income sources allow for a better chance of survival and long-term security. Each channel's effectivity can be maximized for acquiring new donors and retaining old ones while potentially increasing their contributions as well.
Event management
Events are essential for many nonprofit organizations especially for those that are just starting up. For that, eTapestry is equipped with a robust event management solution that enables users to send invitations and sell tickets through various online channels. There are also tools for managing attendance and coordinating donations. All event management features are part of the purchased packages and don't have to be added manually.
Increased security
Data security is a big concern for any type of organizations, which is why eTapestry made sure that every function it has is protected by data encryption. There are also security features provided through router settings, storage devices, and the latest firewalls. eTapestry is equipped with a repository of data that is safe from attacks, natural disasters, and viruses. Data can also be backed up locally by downloading a copy from the system.
Reliable reporting
Dashboard reporting can generate progress reports quick and easy with just a single click of a button. Reports can be used to obtain information and make a statistical comparison between retained donors, new donors, and those who raised their contribution. History of all the donations given by a donor is also available.
Integrated payment processing
There is a built-in payment processing system inside the platform called Blackbaud Merchant that empowers the usage of online forms, debit cards, and credit cards for a payment solution. It is a secure, fast, and cost-effective payment method that helps organizations in managing their money and time.
Social media leverage
Blackbaud understands how social media platforms significantly impact organizations' success, which is why they developed a social media finder data feature. It is an integrated tool that enables users to locate the social media accounts of their prospects, allowing for an opportunity to communicate with them and to invite them to activities and events.