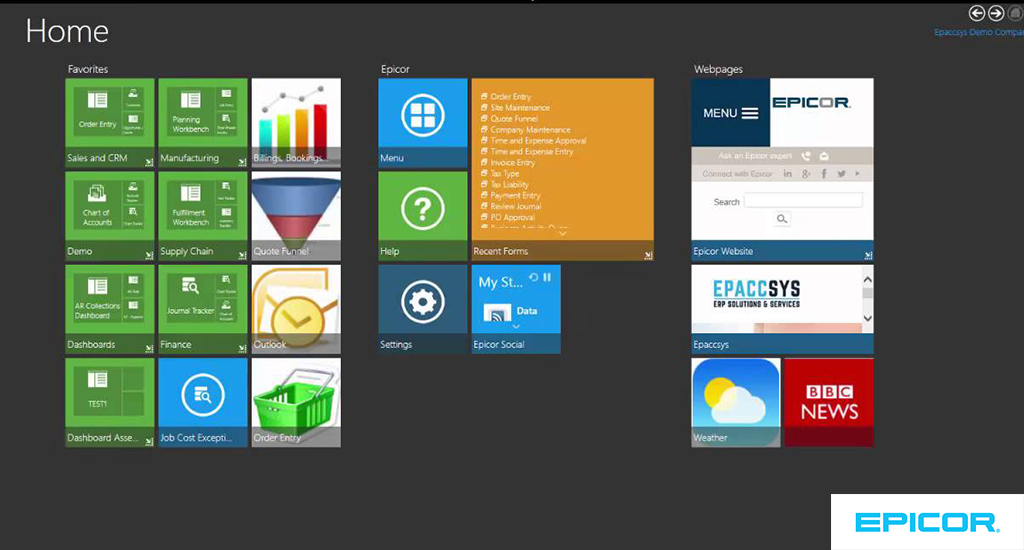 The main benefits of Epicor include its modularize architecture and rich feature set. Likewise, despite its complex toolkit, this ERP proves to be intuitive even for a novice. Here are the details:
Modularized features mean flexibility
Epicor can be deployed gradually, module by module, or set up as an end-to-end tech stack. While it has full capabilities to manage your key business processes, from accounting, finance to CRM, project management and to HR and inventory, you can select only the modules that you want. Furthermore, integrating this solution with an existing system is manageable via the separately offered EDI Managed Service. The advantage of a modularized ERP is that you can implement the setup by a department, allowing you time to contain and fix workflow issues, if any, at a smaller scale.
Robust financial management
At the heart of Epicor are a fully featured accounting and financial management module. It features an extensive suite of tools to help you generate a wide array of reports and statements. The chart accounts feature adapts to a variety of accounting and fiscal setups. Whatever industry you belong, this ERP is likely to be suitable.
Intuitive interface
Despite the complexities of its toolkit, Epicor has a neat UI that aids in navigating the tools and modules. It allows you to set the interface either in classic or modern mode, that is akin to a traditional Windows Explorer dashboard or Windows 10 colored tiles. The menu, settings, and help are easily accessible anywhere in the system.