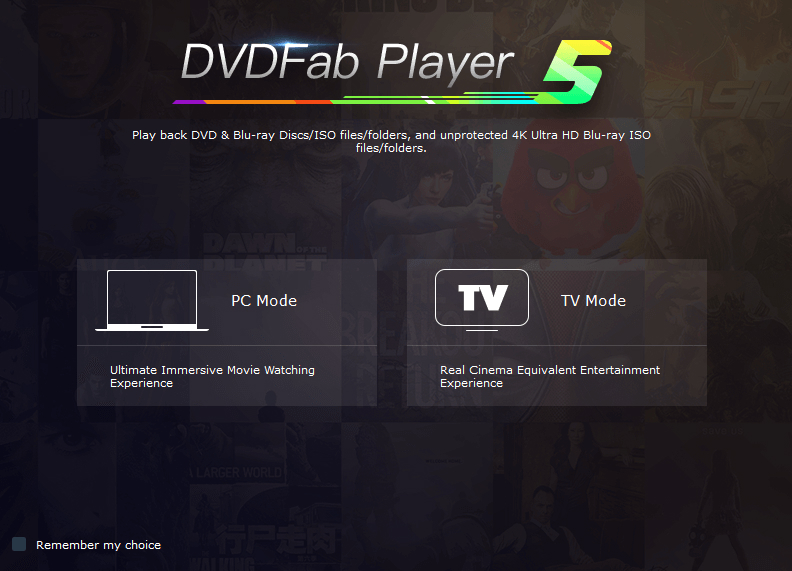 Impressive Set of Features
DVDFab Player 5 comes in two editions: Standard and Ultra. This renovated software offers a range of modern features for video fans. The interface is user friendly and provides a high-quality watching experience on computers and laptops. The TV mode presents an enjoyable audio-visual treat similar to big screen LED and plasma TVs. On this media player, you can watch 4K UHD videos and Blu-ray movies on TVs and PCs that have high resolution of 2160 pixels. The application improves the playback compatibility, stability, and smoothness to enhance your 4K UHD viewing pleasure. In addition, the tool's hi-res audio outputs include DTS-HD Master, Dolby Atmos, DTS:X etc.
TV and PC Playback Modes
There are two playback modes: TV and PC.  The TV mode presents theater-like video and sound quality on your computer screen. The PC mode's unique design facilitates high-quality watching experience on your computer screen. On top of that, the platform works with Windows Media Center remote control to help you easily playback the videos.
Superb Navigation Menu
The all-round navigation menu makes it simple to access all the needed features and enhances your viewing pleasure. This media player supports the latest 4K Ultra DVDs and Blu-ray discs and offers high-resolutions of 2160p, 1080p, and 720p to the 4K UHD.
Crystal Clear Picture Quality
DVDFab Player 5 reviews indicate that the application supports HDR 10 playback mode. This gives the best color and contrast, and pixels, as well faster frame rates to the videos you are viewing. Plus, the tool functions well with 4K TVs and monitors.
Create Custom Playlists
You can effortlessly create custom playlists with this tool. For instance, you can make a collection of movies from leading studios such as Marvel Studios, Warne Bros, etc. Create the customizable playlist by pulling all the films of a specific series or banner in the playback window. Plus, you can sort the playlist by genre and name, and perform other actions like repeating one disc or all discs.
High-Res Audio Outputs
If you own 7.1 channel audio speakers then you can invest in DVDFab Player 5 to get a movie theater-like sound experience in your home as this software extracts the best qualities from modern acoustic systems. It provides high-definition and high-quality sound without loss. The tool supports audio formats such as DTS:X, Dolby Atmos, Dolby True HD, DTS-HD Master and others.