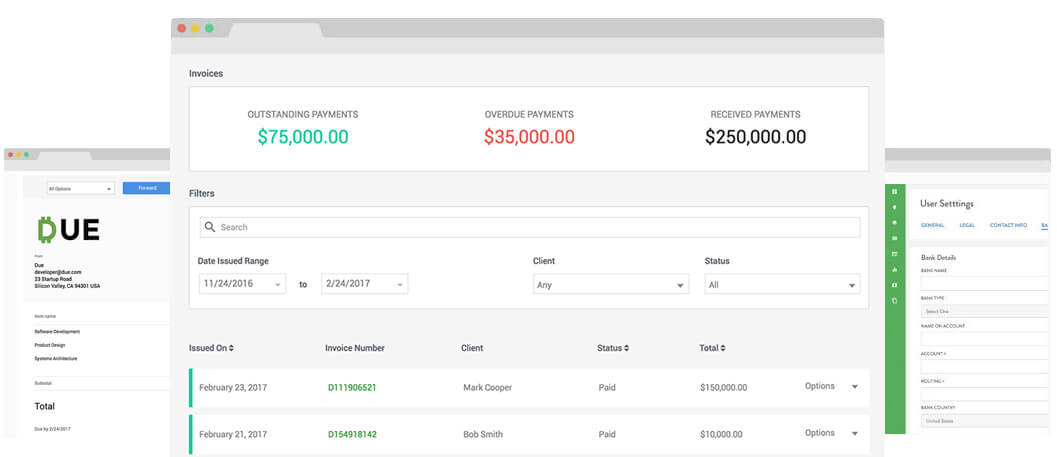 The main benefits of Due.com are its user-friendly and intuitive dashboard, invoice and client tab, project tabs, and an array of advanced features. Here are more details:
User-friendly and Intuitive Dashboard
Due.com eliminates the need to deal with a complicated process to get started. To use the system, all you have to do is visit their website, find the form to sign up, and give the basic contact details it requires. You can see all the features and items like calendar and reports on the left side of Due's dashboard screen, which is intuitive. Because of its easy-to-use dashboard, you do not need to spend a significant amount of time and effort in learning how to use the system.
Invoice and Client Tab
Due.com comes with an invoice tab where you can view the number of pending or paid invoices as well as their ID numbers. Moreover, you can get information on recurring invoices. The client tab, on the other hand, allows you to easily create an address book of clients. This allows you to find the clients in a breeze and navigate to their contact details quickly when creating a project or an invoice.
Projects Tab
Due.com also features a projects tab that comes with two sections. One is for projects and the other one is for tasks. It is where you can create your projects and add necessary details such as the client name, budget, the due date as well as the tasks. The platform also allows you to edit the information at any time. These tabs are available in the free version of the software.
Advanced Features
Due.com offers a free version of the platform that allows you to use its capabilities without having to pay a penny. But for those looking for advanced features, Due also offers a paid version. Among the features included in the paid version are the invoice export option, activity timeline, and PayPal integration. The PayPal partnership allows you to save money as you can get paid through PayPal for a transaction fee of just $0.50.