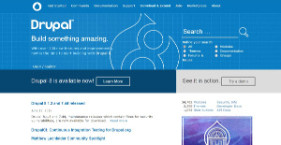 The main benefits of Drupal are the variety of management tools that range from the advanced menu to user settings, customizable app settings, and versatile app taxonomy for content classification. Read on to learn more of its advantages.
Drupal has many features ranging from advanced menu management to user management. Through these features, users have an easier time to make simple yet advanced sites like blogs, or social networking pages. Using Drupal, a user also has a variety of choices of the site's content which could be polls, videos, texts, blog statistics, and other useful content.
As the app can be personalized, users can easily find a variety of ideas and features for designers and developers. Through Drupal, businesses can gain from rapid growth after incorporating the app's core functions and features. Drupal is also on par with many enterprise-class CMS when it comes to reliability, scalability, security, manageability, and availability of resources.
More than a million sites trust Drupal due to its versatility. The platform also has a strong taxonomy, which helps users classify and sort out content. Using this feature, adjusting to keywords will be simple. Moreover, Drupal is streamlined for community sites, with its solid user access and role control that can accommodate as many users as needed. Lastly, the Drupal forum still has some active user base that makes it a good place to ask for questions.