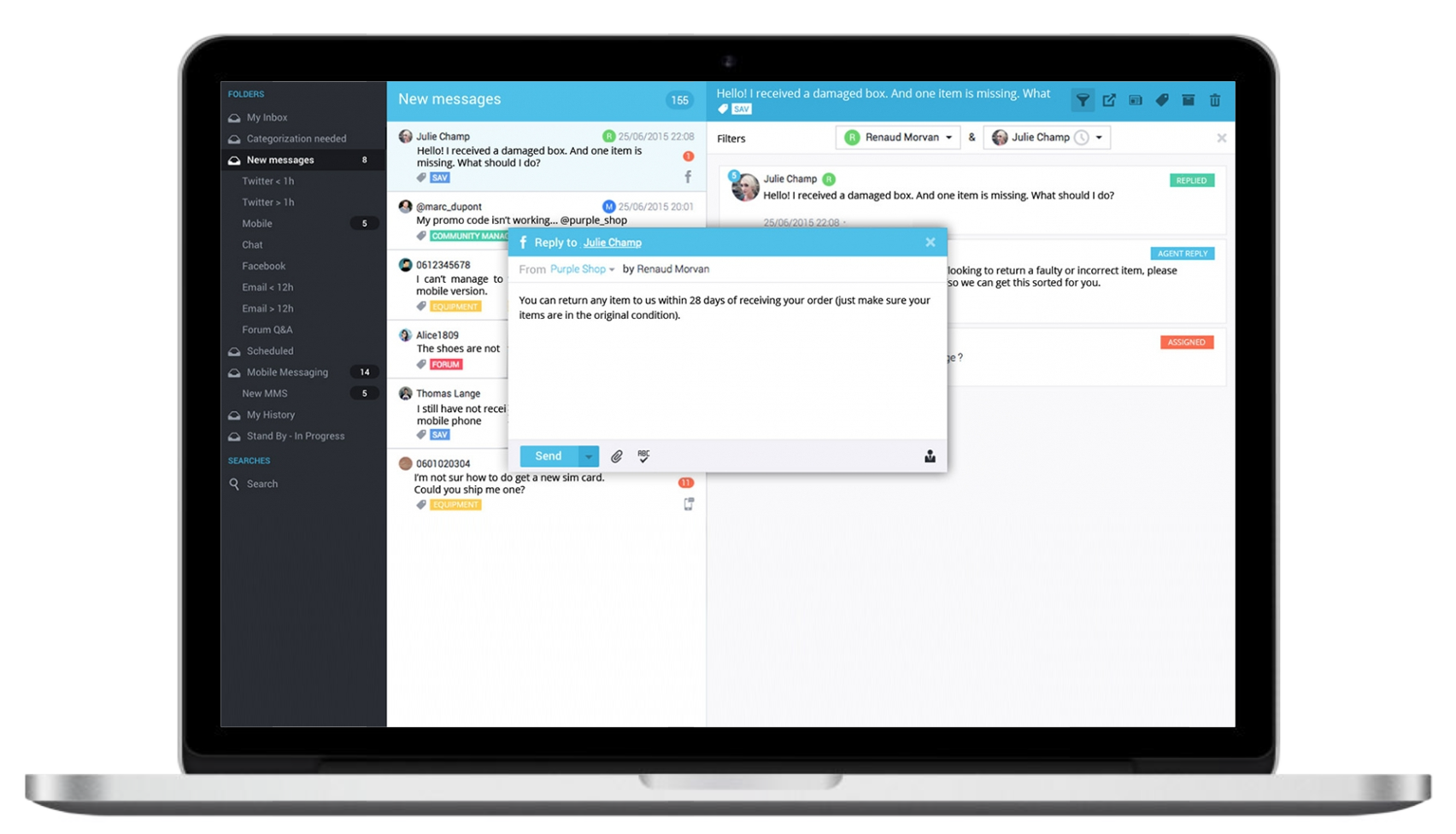 Dimelo Social
Dimelo By RingCentral features this module which collects all feeds from social media channels to enable large-scale processing of customer interactions and traceability of conversations. It provides all the features you need to enhance your effectiveness and convert your customers into brand ambassadors. You can easily toggle between different social channels to provide prompt responses to customers in whatever channel they may be. In addition, Dimelo Social utilizes a self-learning algorithm that detects message patterns, routes messages to the right agents, suggests replies, and filters unrelated messages.
Dimelo Chat
Dimelo By RingCentral reviews indicate that the Chat module enables you to assist your visitors in real time. You can view your visitors' browsing patterns and proactively offer the chat tool at the right time. Identify your valuable customers and provide them relevant solutions. In addition, you can enhance the customer experience by sharing multimedia files with them. Plus, you can automatically send surveys to measure customer satisfaction.
Dimelo Mobile
Dimelo Mobile enables you to retain the whole history of your conversations with your customers. You can go back and view the history even after closing the solution. Customers get a push notification if you reply after they have closed the application. In addition, Dimelo Mobile enables you to exchange geolocation data, videos, and images with your customers. Finally, the offline access facility stores customer messages sent when network is poor and enables you to access them after network improves.
Dimelo Mail
Dimelo Mail is a comprehensive tool for email management. It goes beyond basic routing and tracks your process, and controls all details from message categorization to the quality of agent responses. The best part is Dimelo Mail is integrated into unified processing console that includes all digital channels such as mobile, social networks, and email. This helps your agents to respond seamlessly to consumers on time, irrespective of the channel. In addition, the module offers accurate reporting and stats on your agents' performance.
Dimelo Communities
This module enables you to promote customer self-service and minimize costs. Your customers can utilize the support community to ask questions and get answers from their peers. On this self-service forum, you can provide a centralized knowledge base and promote useful content. Another advantage is your agents are saved from responding to simple and common queries, and can focus their time on high-value tasks. The FAQ community provides published answers to common customer questions. In the Guru Community, experts provide answers to consumer queries. Finally, you can use the co-innovation community to collect the sentiments and opinions of your customers and exchange ideas with them to foster collaboration and co-innovation.