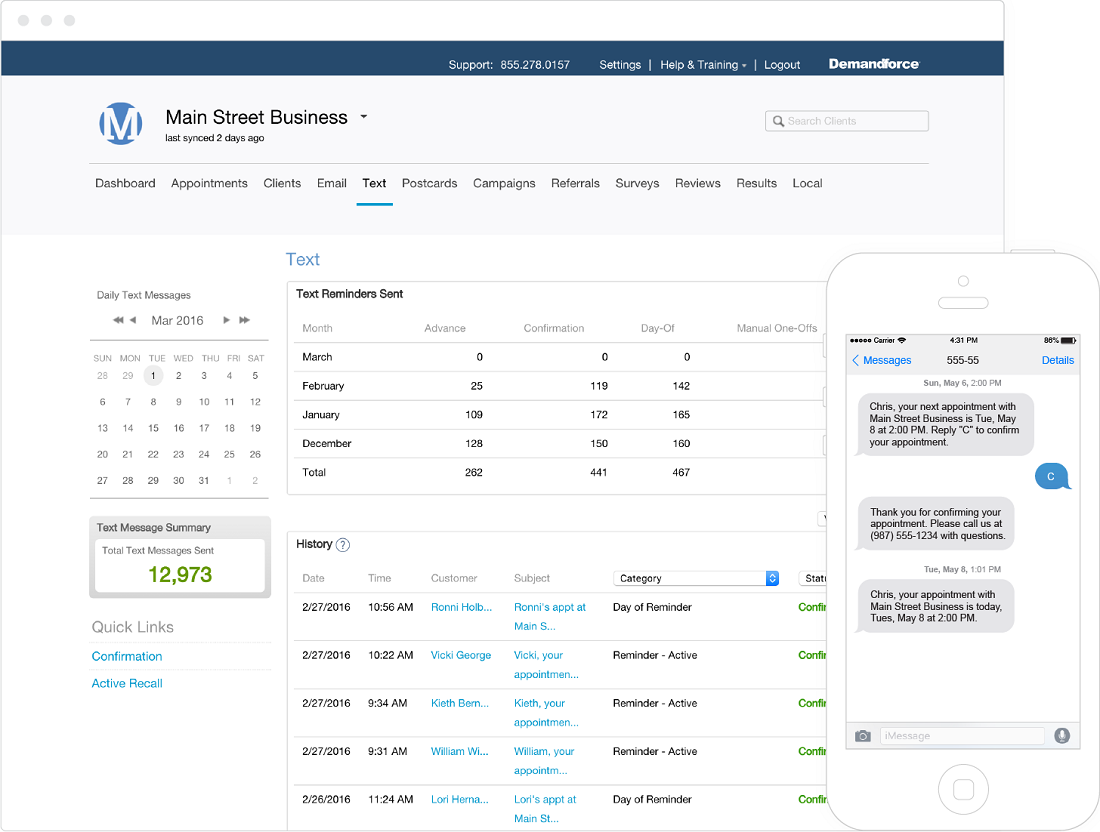 The main benefits of Demandforce are its automated appointment reminders or confirmation messages, capabilities to manage a business's online reputation, automate marketing, integrate social media marketing, and local marketing. Here are more details:
Automated Appointment Reminders or Confirmation Messages
The automated appointment messages can benefit both businesses and their clients. An organization can send confirmation messages or appointment reminders to their client so they will know whether the client can make it on time or not ahead of time and accommodate other interested clients. For customers, automated messages help ensure that no appointment will be missed.
Reputation Management
In the marketing field, knowing how your customers perceive your brand can be a great help in changing and improving the way you do your business. Demandforce helps you with this. The software comes with an after-service built-in survey that can be conducted to get feedback from customers after they avail your services or products. Apart from knowing what kind of experience your clients had with you, the software also allows its users to manage the service reviews they receive. It helps businesses ensure that only genuine customer reviews are posted on the internet.
Marketing automation
Demandforce can be a huge help for a marketing team. It automatically sends discount coupons to the client's email, keep them up-to-date with valuable tips, etc. If the customer did not leave an email, the software gives out professional postcards. Hence, a business's in-house marketing team can save money and time doing such activities manually. Small businesses with no sufficient budget for marketing can also take advantage of this benefit.
Social Media Marketing
These days, social media platforms undeniably serve as powerful tools to market a product and service. The software integrates with Facebook, hence expanding a user's marketing and business scope. Facebook, being the biggest social networking site, can be used by business owners to find more about what the audience and customers think about their business.
Local Networking
By using Demandforce, your business will be locally listed in many different search engines, which means you will be more visible to clients looking for offers or services similar to yours. Your customers will also get a comprehensive enterprise profile and information valuable to them such as special discounts, reviews, and online bookings.