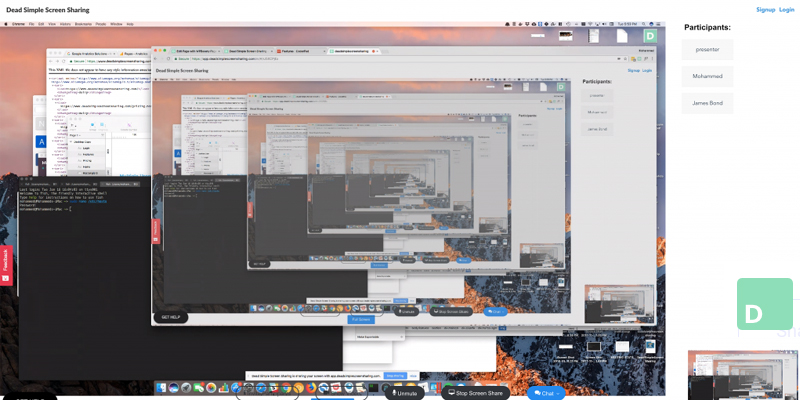 Simple and Flexible Tool
Dead Simple Screen Sharing is a user-friendly screen sharing application that enables you to effortlessly share your screens with others using your laptop, desktop, tablet, or smartphone. It operates smoothly on all popular operating systems, browsers, and mobile platforms. This gives you great flexibility to collaborate efficiently other team members, share ideas, and get your viewpoints across to them.
Free and Open Source Versions Available
You don't need to download or install any software on your system and can get started right away. The vendor offers a free version that you can test drive before investing your money. They also provide an open source edition on GitHub which you can utilize to customize and tailor the platform to fit your business needs.
Enables High-Quality Audio Conferencing
You can perform audio conferencing in high definition which gives you amazing voice quality for your online discussions and meetings. Plus, you can record the meetings and share them easily with people where were unable to attend them.
Other Benefits
Dead Simple Screen Sharing is ideal for you to present sales demos to your customers as they don't need to install anything. Simply share your demos with them via URLs. If you utilize Slack for screen sharing, Dead Simple helps you out here too as it seamlessly integrates with Slack. Finally, the learning curve is short and you can effortlessly start conducting effective online meetings quickly without wasting time.