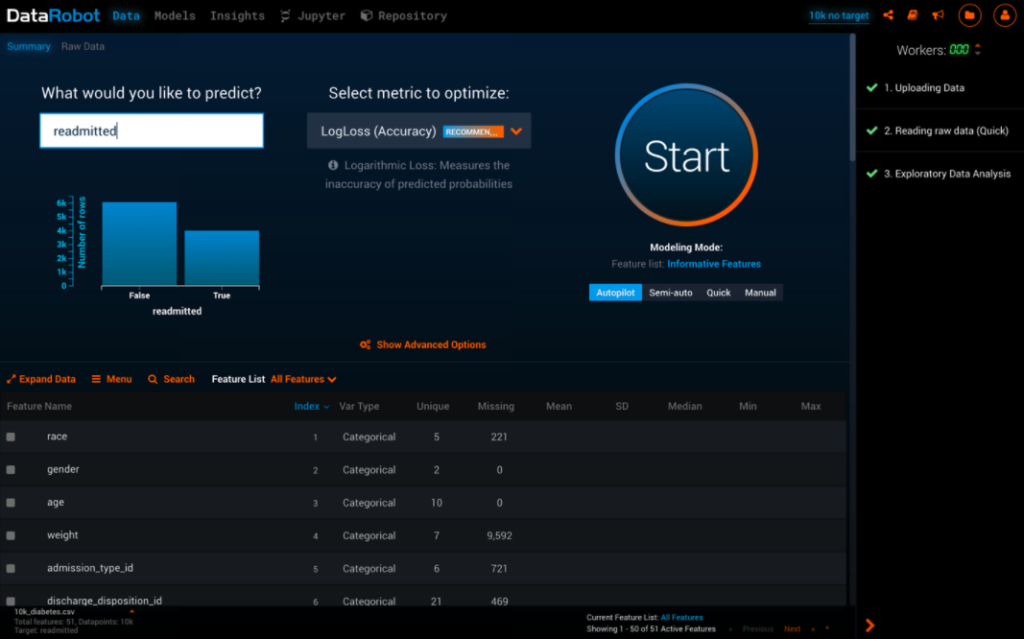 The main benefits of DataRobot are powerful analyses, predictive models, ease of integrations, and cloud-based deployment. For more information, read about its benefits below:
Powerful Analyses
Any organization that is positioning itself to become more AI-driven will find DataRobot to be a powerful and ideal predictive analysis solution. It provides enterprise-grade automated machine learning procedures that will help transition any organization into a more AI-powered enterprise. This decreases the troubles of developing a similar solution in house.
Modeling lifecycles are streamlined and automated by DataRobot. This enables users to easily and quickly develop accurate predictive models without knowing how to code.
Predictive Models
DataRobot supports the rapid deployment of predictive models. Users can employ models to increase value creation after a few clicks. It leverages modern distributed data processing and can run multiple experiments simultaneously. This minimizes completion times of data science projects radically. Furthermore, DataRobot provides various methods for deploying finished predictive models like native and batch scoring, prediction APIs for scoring in real time, and exportable prediction code. This eliminates bottlenecks in the deployment of models.
Ease and Integration
Each model created via DataRobot publishes a REST API endpoint. This means that each model can easily integrate with current enterprise applications. You can create, use, and further customize your models to fit the precision needs of your organization regardless of scale.
Cloud-based
DataRobot can be deployed on the web or on premises. Its cloud-based deployment is powered by Amazon Web Services (AWS). This makes its comprehensive cloud module more agile and flexible. Machine learning is made convenient. With DataRobot in the cloud, you can incur less cost for owning such a powerful solution. This eliminates traditional costs like hardware requirements, installation, computing costs, infrastructure setup, and space.