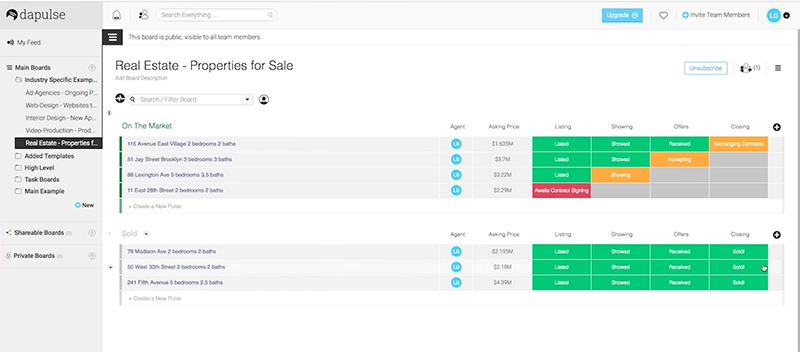 The main benefits of Dapulse are it streamlines access and tracking, offers sophisticated customization, ensures effortless collaboration, and provides a reliable end-user service. Here are Dapulse's benefits:
Streamlined access and tracking
What does the Dapulse Board represent? It offers high-level insight on a company project and the performance of team members. The main board shows all projects and tasks and links them to concerned agents as well as interested parties who can track progress. Interested parties include project partners and beneficiaries who can get notifications on project progress, and can view and approve without getting designated as permanent users in the system. Agents can observe and monitor the project to stay focused and motivated to do their tasks, while managers can save time and spend it on key business operations. Dapulse can also work great as a workflow management software solution.
Sophisticated customization
One of the benefits we consistently note in our Dapulse reviews is that it divides projects, items, and tasks in stack rows called Pulses and then categorizes them in desired sections and groups that correspond to your policies and rules. The app is flexible and customizable as it tracks each change in the item's status, modifies dates, and identifies the employee who carried out a particular action. Thus, you can easily find out which employee was responsible for particular wrongdoing or error.
Effortless collaboration
To collaborate with others, you simply need to click on a particular case item. Collaborators can use this method to leaves notes for colleagues, upload relevant documents, take questions and provide answers in Q&A sessions, and to comment on updates. The collaboration hub includes Twitter and Facebook activity feeds, and records all discussions and comments for employees to reply promptly in real time.
Reliable end-user service
You can subscribe to issues and boards, track your team members' profiles and performance, and contribute whenever you wish to. This app thus helps to streamline end-client service, and it connects remote and decentralized teams who can collaborate effortlessly from wherever they are based.