Dapulse Reviews: Pros, Cons & Pricing of the Leading Project Management Solution
April 25, 2017
0 Comments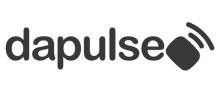 Price: $5/month
Our Score: 93%
What is dapulse?

Dapulse is a popular communication and collaboration solution you can use to get your employees working in sync in one place. It is definitely one of the best project management systems in the market.

What makes dapulse stand out among competitors? To start, it helps to streamline contributions and discussions, and keeps all employees on the same page to ensure quality performance. The best part of the app is it displays progress in a visible manner, which allows your employees to track the status and health of company operations, and motivates them to contribute their mite.

Dapulse has a neat and easily understandable collaboration interface that reminds you of social networks as all users have a profile and can effortlessly interact with others. The learning curve is very short as you can learn to use the software effectively within a short period of time. The vendor also provides training materials to help beginners get the hang of the solution quickly.

Want to know more about this software? Our Dapulse reviews discuss the software's pricing, benefits and technical specifications in detail below.
Main Features
A collaboration tool for multiple employees

An Execution Board – with big screen display

Integrations: Dropbox, Google Drive, Pipedrive

You can copy and paste from Adobe

Zero emails and meetings overhead

Knowledge base – auto generated, completely searchable, full documentation

New employees can hit the ground running

A visual display of progress

A many-to-many communication tool
Easy communication: tag people

Easy collaboration: tag teams

Personal and public Boards

Eliminate noise: get updates based on relevance

Email updates – send updates by email

Email notifications – get notified by email

Motivational tool

You can leave live comments on visuals
List of Benefits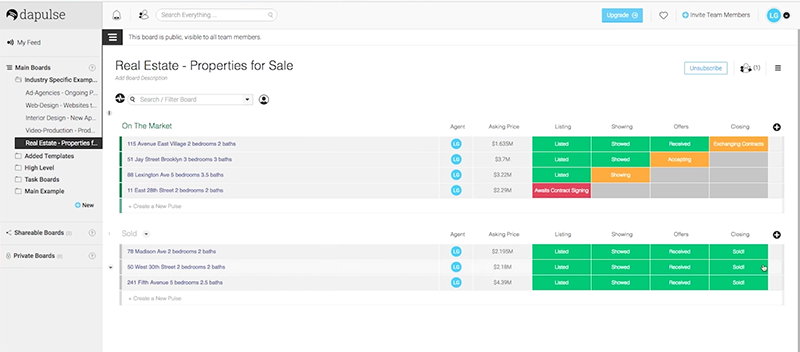 Dapulse offers many features and benefits to improve your business performance including advanced collaboration functionality and transparency. The app uniquely combines collaboration with project management as indicated by the design of its shared and private boards.
Streamlined access and tracking
What does the dapulse Board represent? It offers high-level insight on a company project and the performance of team members. The main board shows all projects and tasks and links them to concerned agents as well as interested parties who can track progress. Interested parties include project partners and beneficiaries who can get notifications on project progress, and can view and approve without getting designated as permanent users in the system. Agents can observe and monitor the project to stay focused and motivated to do their tasks, while managers can save time and spend it on key business operations. Dapulse can also work great as a workflow management software solution.
Sophisticated customization
One of the benefits we consistently note in our Dapulse reviews is that it divides projects, items, and tasks in stack rows called Pulses and then categorizes them in desired sections and groups that correspond to your policies and rules. The app is flexible and customizable as it tracks each change in the item's status, modifies dates, and identifies the employee who carried out a particular action. Thus, you can easily find out which employee was responsible for a particular wrongdoing or error.
Effortless collaboration
To collaborate with others, you simply need to click on a particular case item. Collaborators can use this method to leaves notes for colleagues, upload relevant documents, take questions and provide answers in Q&A sessions, and to comment on updates. The collaboration hub includes Twitter and Facebook activity feeds, and records all discussions and comments for employees to reply promptly in real time.
Reliable end-user service
You can subscribe to issues and boards, track your team members' profiles and performance, and contribute whenever you wish to. This app thus helps to streamline end-client service, and it connects remote and decentralized teams who can collaborate effortlessly from wherever they are based.
Technical Specifications
Devices Supported
iPhone-iPad
Mac
Web-based
Windows
Linux
Android
Geographies Served
United States
United Kingdom
Canada
International
Pricing Model
Monthly payment

Annual subscription
Customer Types
Large Enterprises
Mid Size Business
Small Business
Deployment
Available Integrations
Asana

Dropbox

Email

Github

Gmail

Google Calendar
Google Drive

JIRA

Pipedrive

Slack

Trello

Zapier
Video
Available Support
Phone support
Email support
Tickets
Training
Live chat
Software Pricing
Dapulse offers a free trial and four pricing packages. The prices given are for 5 users per plan and are for annual billing.
Basic Plan – $5/month
Features include 5 GB of storage, simple search function, and filter by person. Plus, you get iOS and Android apps as well as 24/7 support.
Standard Plan – $8/month
Features include 50 GB of storage, powerful search, filter by anything, iOS and Android apps, add unlimited boards, and 24/7 support. On top of that, you can add updates via email and share boards with guests. You also get external integrations, limited number of guests, and full API.
Pro Plan – $12/month
Features include unlimited storage, powerful search, filter by anything, iOS and Android apps, add unlimited boards, and 24/7 support. Other important features are: add updates via email, external integrations, share boards with guests, unlimited guests, full API, private boards, detailed activity status, and Google authentication.
Enterprise Plan – $24/month
Features include unlimited storage, powerful search, filter by anything, iOS and Android apps, add unlimited boards, 24/7 support, add updates via email, external integrations, share boards with guests, unlimited guests, and higher API rate limit. You can also make use of other features such as: private boards, detailed activity status, Google authentication, VIP support with account manager, one-on-one training, two-factor authentication, advanced security features, and audit log.