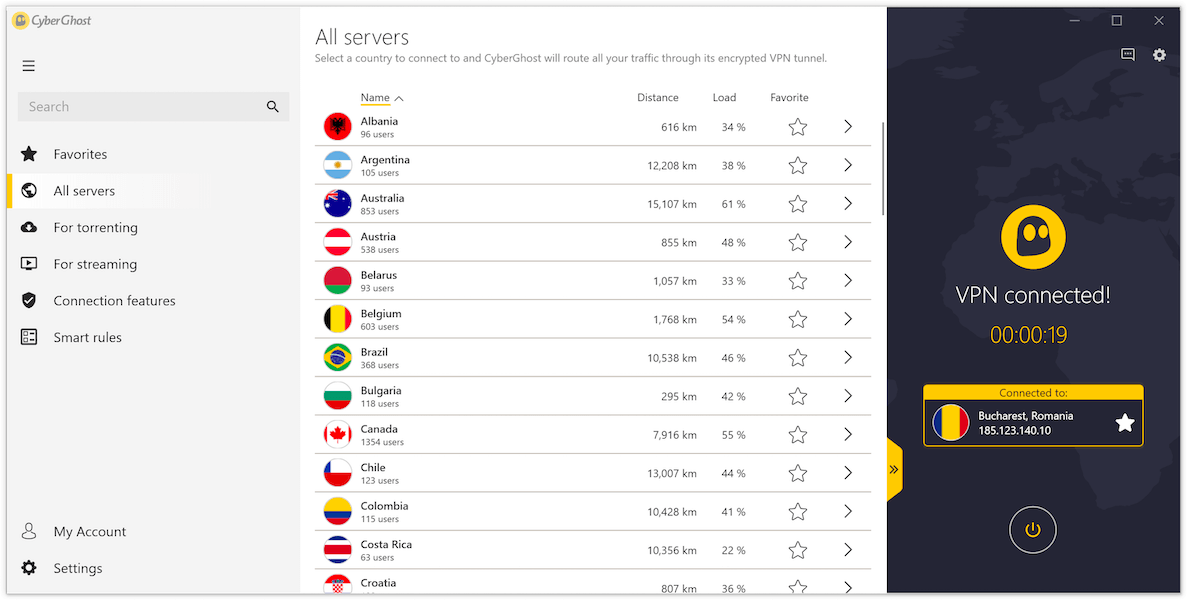 The main benefits of CyberGhost are protected private and personal data, low shopping rates, and unrestricted content. Here are the specifics:
Secured Personal Data
With CyberGhost, users don't need to feel afraid about their personal and private data getting leaked because the app applies strong encryptions so that they can do their projects on the web quickly and confidently.
Additional Public Protection
Users become defenseless when they are using public hotspots. That is why CyberGhost gives them additional security. The application guarantees that their information stays safe against malicious threats.
Lower Shopping Rates
With CyberGhost, users can even enjoy lower rates when shopping because companies are adjusting their prices according to geographic location. By using this program, clients can change their location to get the best deals.
Unrestricted Content
CyberGhost gives all-around access to various content on the web. The servers of VPN application skirt around those controlled and geo-limited information so clients can make the most of their loved contents any time.
All-Around Protection
CyberGhost does not simply protect PCs, but it can also secure iOS and Android devices. Because of this, users can rest assured that their online exercises are safeguarded regardless of the device they are using.
Besides, CyberGhost has additional applications that guarantee security for routers. With this capability, users can give protection to their private Wi-Fi connection against malicious usage.