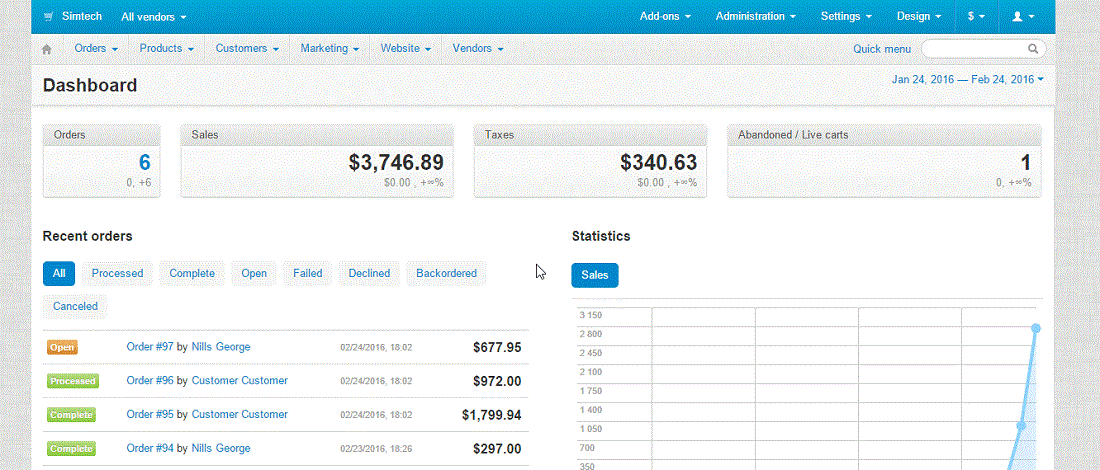 The main benefits of CS-Cart Multi-Vendor are its complete e-commerce functionalities, easy-to-use admin panels, regular updates and security, and the marketing features it provides. Here are more details:
Complete e-commerce solution
With over 1,300 e-commerce stores around the world that chose CS-Cart Multi-Vendor to power their market, the solution is known to be one of the best e-commerce marketplace solutions. It gives users all the functionalities that an online mall would need right from the start with more than 500 e-commerce features available. There are also ready-made storefront themes available for users to choose from. Each is mobile-friendly and can be customized to match the aesthetics and specifications that users have.
Intuitive admin panel
Stores are managed through the provided admin panels that are very straightforward to operate. Menus are placed in convenient locations for easy and quick access. Navigation is also effortless and within a few hours, users will feel at home with the interface. Overall, users will find the admin panel easy and not time-consuming to use.
Secure and updated
Every year, the platform receives more or less six upgrades that could either be patch releases for resolving issues or some completely new tools and features. CS-Cart Multi-Vendor is always undergoing some improvement to make sure that it keeps its full compatibility with the most recent server technologies. It is also very reliable and secure, safeguarding users from data leaks and breaches. With these, users don't need to get worried about getting left behind in the competition.
Marketing features
The platform not only provides e-commerce tools for the business but also various SEO and marketing features, which aid in increased sales. It has a built-in marketing system that features a lot of marketing capabilities such as loyalty bonuses, lead generation, and cross-selling.