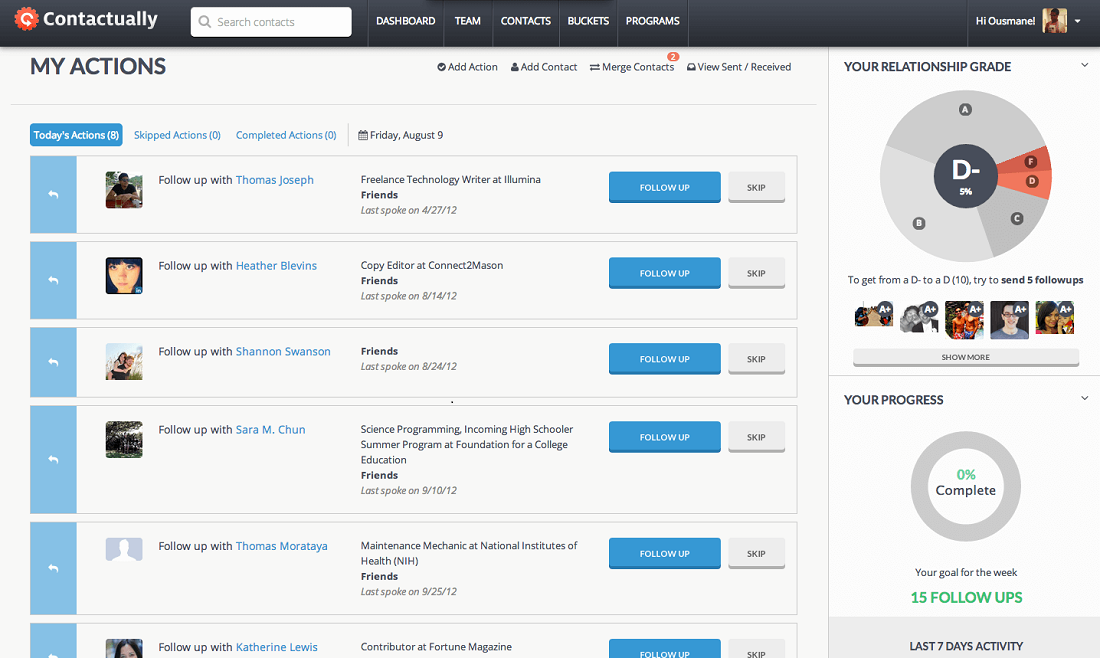 The main benefits of Contactually are its wide array of functionalities, advance communication management capabilities, ScaleMail feature, and a seamless Integrations and reliable support. Here are more details:
Acts as a Virtual Prompter
The platform can handle the role or a virtual prompter. It can remind the system users in a company of the pending contacting activities. In addition, it can be your virtual assistant who can do several actions using separate programs. This capability lifts off the daily burden of having to manage, check, and schedule communications.
Advanced Communication Management Capabilities
The main purpose of the platform is to offer advanced communication management capabilities that will accelerate the process of dealing with communication tasks so companies can save more time. Contactually, hence, allows it's users to import, sort, segment, as well as organize contacts into "buckets" in the system. Afterward, users can already create particular pipelines and programs that can be used to automate activities such as chain mails. In addition, you can use an extensive library of content as well as support from adept and trained professionals who can aid in distributing on-point and personalized emails.
ScaleMail Feature
ScaleMail feature allows users to choose the people they wish to contact and communicate with and create a message that fits them. This capability ensures that your emails and newsletters meet your business needs. The platform also comes with numerous different templates as well as custom and preset mail-merge-style tokens.
Seamless Integration and Reliable Support
The system offers an open API, allowing users to connect to third-party apps. Native integrations are also available including MailChimp, Facebook, Twitter, Gmail and more. In addition, users can expect reliable technical and customer support from the vendor and its team.