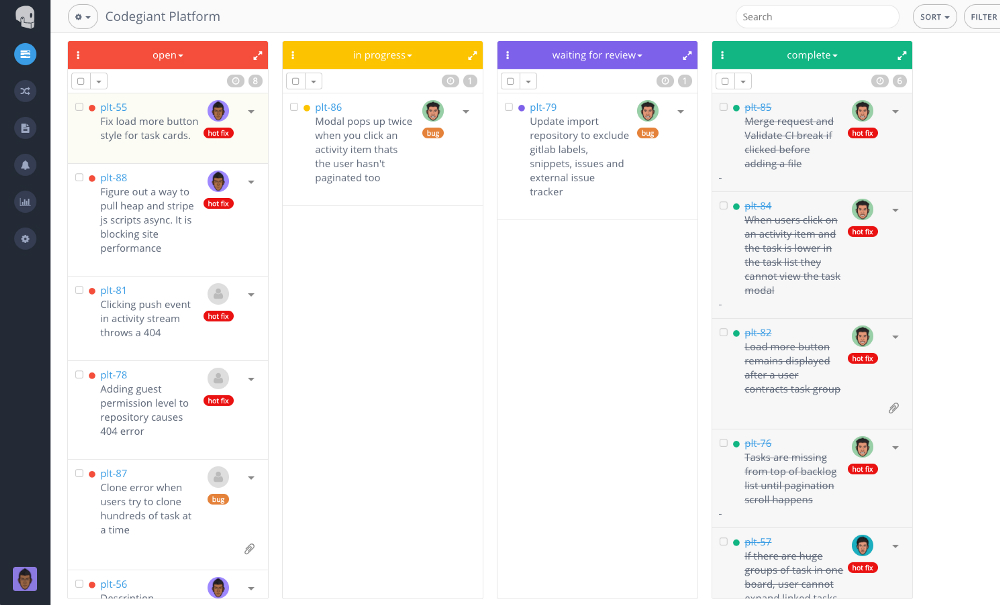 Affordable Solution
Codegiant offers robust features at an affordable price. As mentioned earlier, teams with less than five members can use the application for free. Medium-sized and large teams can opt for monthly payment or annual subscription. The subscription prices are relatively less expensive and can be afforded even by companies with limited budget.
Unified Project Management
Codegiant stands out because it is a platform that provides all the essential tools for end-to-end project management. It offers an interface that meets all your needs and helps you perform and track the necessary tasks for successful project completion.
Intuitive Issue Tracking
Issues that come up during development can delay project completion. Codegiant reviews indicate that this software enables you to deal with them agilely and adeptly using an intuitive issue tracker. It gives you two choices: simple but robust Kanban workboards or focused and powerful workboards.
Efficient Code Review
Codegiant helps your team to function seamlessly and complete projects quickly. This is facilitated by its interface that comes with a fully hosted Git platform that enables smooth team collaboration. You can review and approve code and ensure all team members are on the same page.
Single Workflow
You don't have to use different platforms to manage workflow, but can consolidate all your supervising tasks in a single interface. This is facilitated by Codegiant's continuous integration feature that empowers you to develop custom timelines and workflows.
Publishable Documentation
Thorough documentation helps your customers make effective use of the software you provide them. Codegiant helps in this aspect as it comes with a rich text editor that you can use to create and edit publishable documentation and brand it with your company logos, colors and other elements.