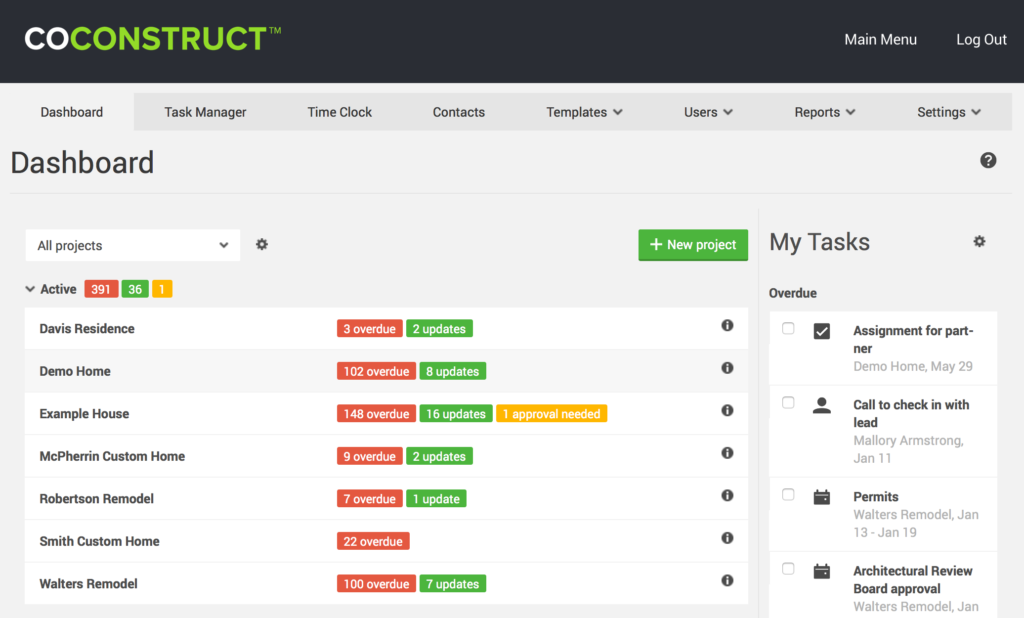 The core benefits of CoConstruct include its well-structured architecture, making tools highly customizable and accessible, and its integrated collaboration and financial management tools. Here are the details of the benefits:
Structured Project Management
CoConstruct allows your team to organize important files, activities, and other project tasks and components. The data are streamlined on a single list which one can easily access and update for future project developments.
Streamlined Bidding
CoConstruct's intelligent system aims to make the bidding process work for you by generating detailed and accurate requests, keeping an eye on your latest files and bid details, and keep track of the activities including an automatic reminder for approaching due dates.
Improve Communication With Clients and Crew
CoConstruct has unique features and modules which enhance the process of feeding information to clients. It aims to build better coordination between the internal and external agents of the project so that exchanging of files and ideas, tracking details and assigning tasks will go smoothly and less timely.
Financial Control
CoConstruct works with QuickBooks and Xero to make the financial management task of the project easy and more consistent. The unified integration of these tools ensures reliable budgeting and forecasting of project expenditures as well as guaranteed reliable invoices.
Custom-built Branding
With CoConstruct, you can white-label the UI and keep to a consistent branding with your staff, partners, stockholders, and clients.
Bring Your Project Anywhere
CoConstruct gives you full access and control of your project anywhere anytime through your mobile devices (iPod, iPhone, iPod, and other Android devices).