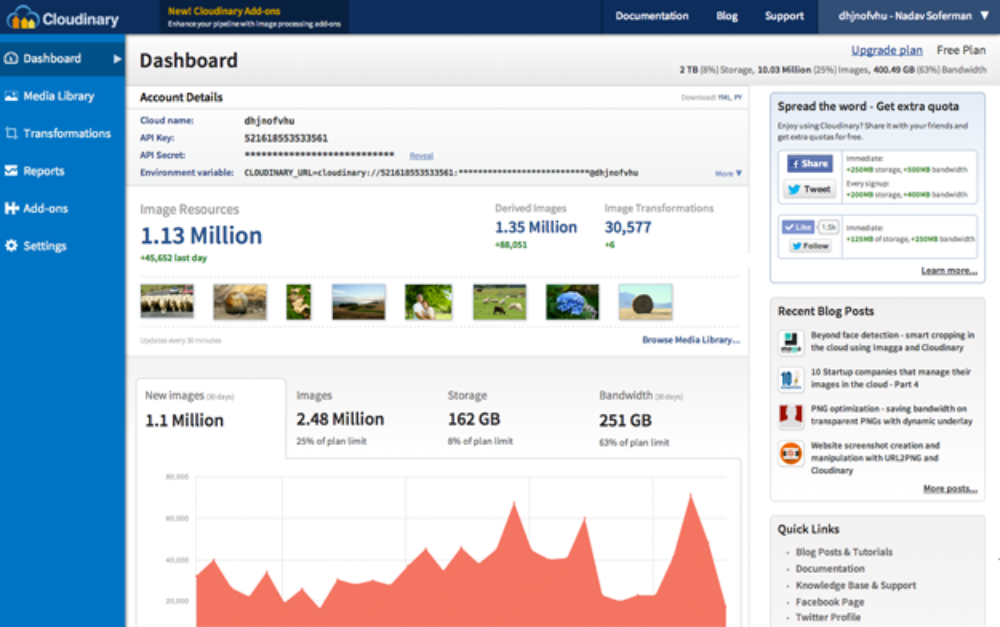 The main benefits of Cloudinary are its cloud technology, its image transformations, and its seamless integration.
The host of user-friendly editing tools that come with Cloudinary simplifies how users manage their media. Thanks to its storage engines and CDN, images—whether dynamic or static—are automatically sent to the cloud.
Users can be assured that their resources are organized, backed-up, and retrievable, thanks to Cloudinary's cutting-edge cloud technology. The software can also scale up to match increased resource management and traffic demands. Clients will experience improvements in app performance as well as in user experience.
Cloudinary users can save up to 90 percent on IT-related expenses since the solution's extensive video and image tools can cut down on the bandwidth spent on graphics. Rather than getting stuck on repetitive multimedia tasks or handling issues related to media content storage, management, and distribution, Cloudinary users can focus on their deliverables.
Hassle-free image transformations are made possible by Cloudinary's key features, which include secure upload API, support for private images, version management, image transformation on upload, remote upload from public URLs, and direct uploading from a browser.
Image transformations available to users include format conversion, rounded corners, automatic rotation based on EXIF data or aspect-ratio, opacity manipulation, arbitrary image rotation, image flipping, and image borders.
Multiple image formats are supported by Cloudinary, which include PNG, GIF, WebP, JPG, BMP, SVG, TIFF, PSD, ICO, PDF, and EPS. Just some of the image filters and effects available to users are grayscale, fill light, black & white, vibrancy, sepia, color channels, brightness, sharpen, contrast, tilt shift, saturation, hue, improve, oil paint, blur, pixelate and vignette, gradient fade, and more.
More features that users will surely appreciate are PDF to image conversion, video thumbnail extraction, multiple image merging, social network profile picture extraction, and animated GIFs. Image metadata can be automatically stripped and users have quality control over JPGs. If they have a compatible browsers, users can also have Cloudinary automatically optimize images for WebP delivery. Whatever development framework developers are using, Cloudinary can probably smoothly integrate with it. Currently, Cloudinary supports Ruby on Rails, Android, PHP, iOS, Node.js, Scala, Angular, Java, .Net, Python & Django, jQuery, and more.
Cloudinary further establishes itself as a solution flexible enough to adapt to an existing workflow thanks to the various systems it can integrate with, which include eCommerce, PIM, project management, CMS, and existing DAM solutions. All of this makes it possible for a developer's custom workflow or mobile and web apps to include media management.
Another benefit Cloudinary users get is how it boosts a site's speed by freeing up bandwidth that would have been consumed by image uploads and image transformations. Images will now be served on Cloudinary's CDN, allowing the server to focus on quickly loading web pages. Users whose sites are hosted on limited share servers will definitely appreciate this.
With Cloudinary, the value of a digital asset can be maximized, video and image workflow automated, and visual experiences optimized for different preferences and delivery channels. This is a benefit that will be appreciated by app developers, marketers, web developers, media managers, and creative directors.
Managing digital assets is easy with Cloudinary's DAM, as it allows users to not just organize folders, but to also securely share them with teams, depending on the role's assigned to them. Assets can be automatically categorized with machine learning or tagged individually since they are fetched from a URL or uploaded directly to the elastic cloud storage of Cloudinary. Other features that make assets more valuable are video transcription, AI-based face and celebrity detection, as well as OCR. Assets can be easily searched and retrieved based on location, tags, faces, context, colors, format, style, or size. Asset performance and usage are dissected by powerful analytics.
Submission of deliverables can be sped up as the creation of asset variants can be automated by Cloudinary. These include optimization, cropping, enhancement, scaling, and transcoding. This can be done either on-the-fly or at upload. Cloudinary is also user-friendly, with a UI that lets even the least tech-savvy user come up with video and image effects and manipulation that can be used for marketing campaigns.
Companies can come up with custom content that can then be delivered personally, thanks to Cloudinary's cloud platform. It delivers optimized content that loads quickly, boosting revenue and conversion rates.
Some of the businesses that use Cloudinary include Wired, Buzzfeed, Whole Foods, lululemon athletica, Under Armour, Financial Times, Taboola, Flipkart, Stitch Fix, Neiman Marcus, and Forbes.