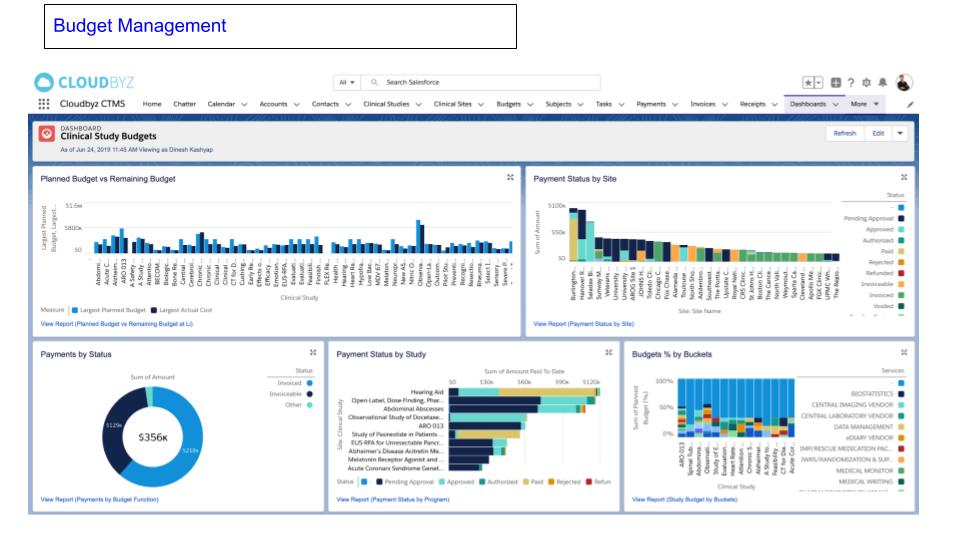 The main benefits of Cloudbyz CTMS are its end-to-end functionalities that cover closeout, start-up, and conduct. Other advantages offered by the platform include:
Accounting Management
Cloudbyz CTMS can help users manage business entities that are involved in the study which includes clinical sites, sponsors, and regional and central labs.
Report Monitoring
The platform offers functionalities for clinical entities to generate trip report templates that incorporate good clinical practice and operating procedures.
Clinical Study Management
Cloudbyz CTMS helps users build, track, and organize various clinical studies and trials; and visualize studies according to sponsorship, type, phase, and indication.
Monetary Management
With the software, users can generate, track, and organize study-level budgets according to activity-based costing and service lines. Users can also build, keep track, and organize certain budgets.
Subject Admission
Cloudbyz CTMS offers functionalities in tracking subject enrollment according to a protocol, site, region, or study. What's more, it provides document tracking and visit scheduling.
Visitation and Payment Creation
Users can use the management solution to create subject visits, payment plans, and procedures according to protocols and negotiated budgets. It auto-generates visits per planned visit schedule on its site calendar.
Team Project Management
Cloudbyz CTMS allows project management teams to effectively handle resources, activities, and tasks. Teams are given the freedom to enable efficient management of site visits and investigator assessment.
Site Administration
The software offers functionalities for setup, site tracking, site management, selection and assessment initiation, evaluation, and real-time performance tracking.
Expansive Database
Cloudbyz CTMS can effectively manage contacts and investigators in one location with updated information regarding past studies, credentials, location, and specialization.