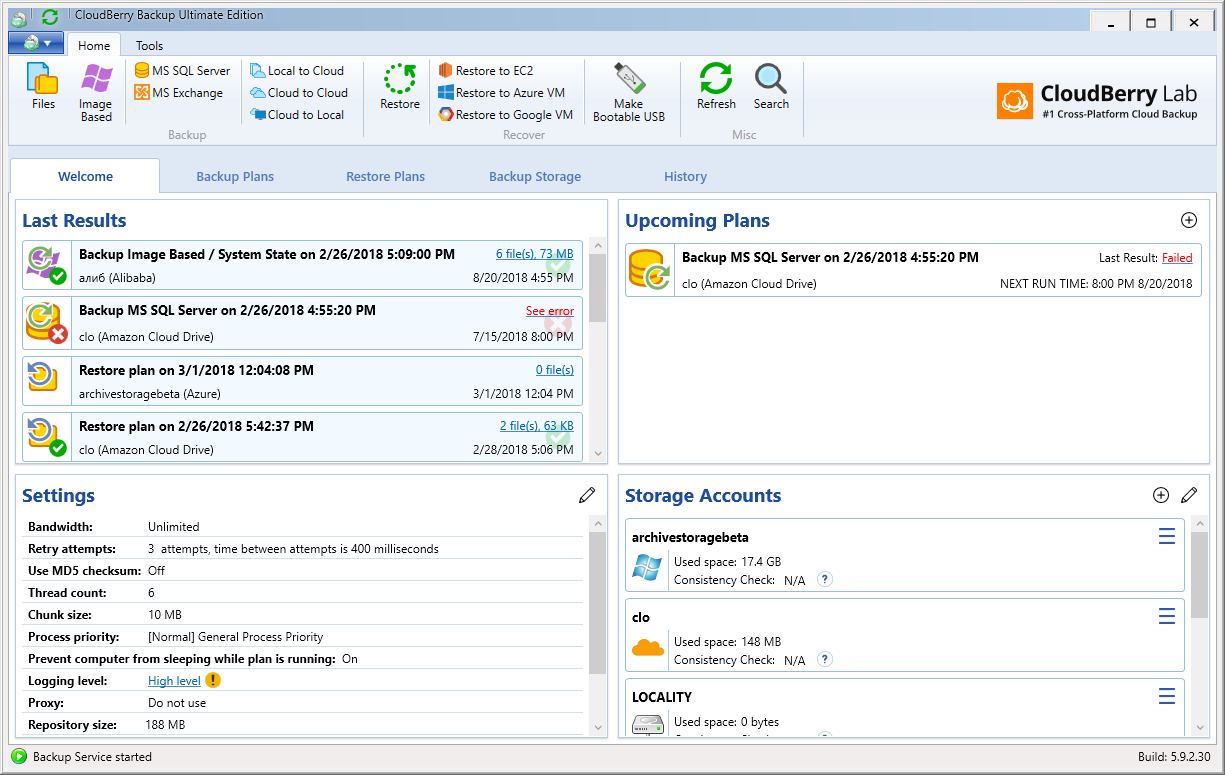 The main benefits of CloudBerry are its myriad of choices, easy-to-use interface, white labeling capabilities, flexibility, control and security, and integrations. Here are the details:
Plenty of choices
As CloudBerry has many integration choices, users can use any of the known and less popular cloud storage apps. So far, CloudBerry can integrate with known ones like Amazon Web Services, Google Cloud, and Microsoft Azure. Meanwhile, it also has compatibilities with Akaza to Zetta. As an MSP app, CloudBerry provides a wealth of choices when it comes to cloud technology and even a wider range for potential clients.
CloudBerry is available is best bought in a bundle package to avoid any hassle in getting any separate cloud storages. The combined price should give an idea of the monthy costs of backup overheads.
Easy to use, sell on the fly
CloudBerry takes only several minutes to set up. Moreover, the Create Backup Plan wizard provides a simple step-by-step guide to help out users to select the target source and its destination. The app also helps users use compression and encryption tools while starting the backup process.
If a user is an MSP, they can optimize CloudBerry further to accommodate many clients at once. Backup schedules can be automated and do incremental backups to lessen the strain on bandwidths due to massive file transfers.
White labeling
CloudBerry also allows white label deals. In the transaction, users can pay a rebranding fee of $129.99 or pay up to $500 worth of licenses. If it's in the business' credit, white labeling can help establish a small business as it can show they have their own in-house tools.
Highly flexible
Moreover, the app has a Managed Backup plan which allows users to make multiple administrators with varying user access levels. With this feature, users can have a data system managed with specific clearance levels depending organizational structures. With this, MSP managers can manage tasks to handle more clients.
Users also have options to customize the backup process. Users can set the schedule manually, use an automated schedule, or run the backup on real time to keep track of the updates themselves.
Integrates with your apps
Regardless of the integration is the whole system or specific parts, CloudBerry can adjust to it. The app has RPC XML API that allows this integration flexibility.
Gives you control and security
The app also supports eighteen encryption types including the standard AES 127-258 bit and other encryption algorithms. With this system, the data is secured and it also complies with the HIPAA.
Moreover, the app can automatically update the cloud-stored files with the latest versions from the users. A version history can also be checked through the control panel to see the changes happening to the backup plans so far.  With this feature, users can bypass using another app like screenshot scaring to keep tabs on the changes all the time.
Always upgraded
Lastly, CloudBerry can have automatic updates to ensure that users are on the latest version of the app. With this, upgrade times can be avoided and prevent bugs and malware from entering your system. These updates are inclusive in the annual subscription fee.