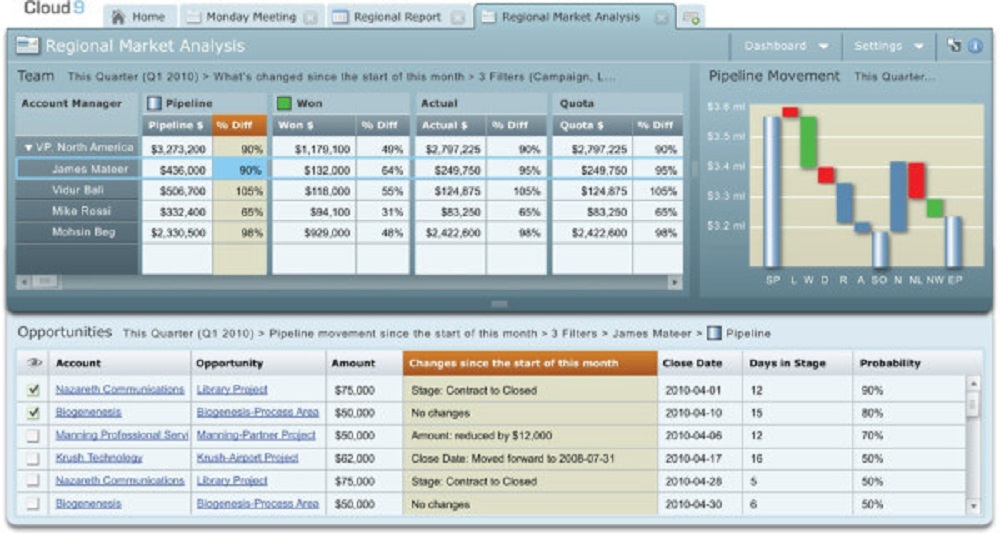 The main benefits of Cloud9 are the complete visibility about revenue progression it gives to users, the capability to identify the ideal reps, risk recognition, and improved forecast accuracy. Here are more details:
Total Visibility on Revenue Progression
Cloud9 gives users a complete overview of their revenue progression, which spans both marketing and sales. Moreover, the system is capable of generating reliable campaign ROI and flagging sales territories that are under or overserved by the current lead generation. Cloud9 also empowers users to predict whether the ongoing lead flow will hit the target number. Lastly, the software can bring automation to marketing attribution.
Sales Advisor
Cloud9 utilizes a factor, called C9 RepScore, for determining the particular reps that are going to meet the quota. It can also offer users some rep-specific recommendations for improving the performance of the ones who aren't doing so well.
Pipeline Management
By using the so-called C9 OppScores, users can determine the deals that would most likely close and those that wouldn't. Risks, especially the big ones that could threaten the organization's quarter, can be anticipated and more importantly, avoided. Cloud9 can also identify the drivers of weeks of pipeline changes and act on them.
Enhanced Forecast Accuracy
Through the use of predictive sales apps for calling the numbers, forecast accuracy is significantly enhanced. Also, the need for a spreadsheet is eliminated since Cloud9 can produce a single forecast that could be tailored to meet all the requirement of every employee. The forecast is done immediately, too, even for global organizations.