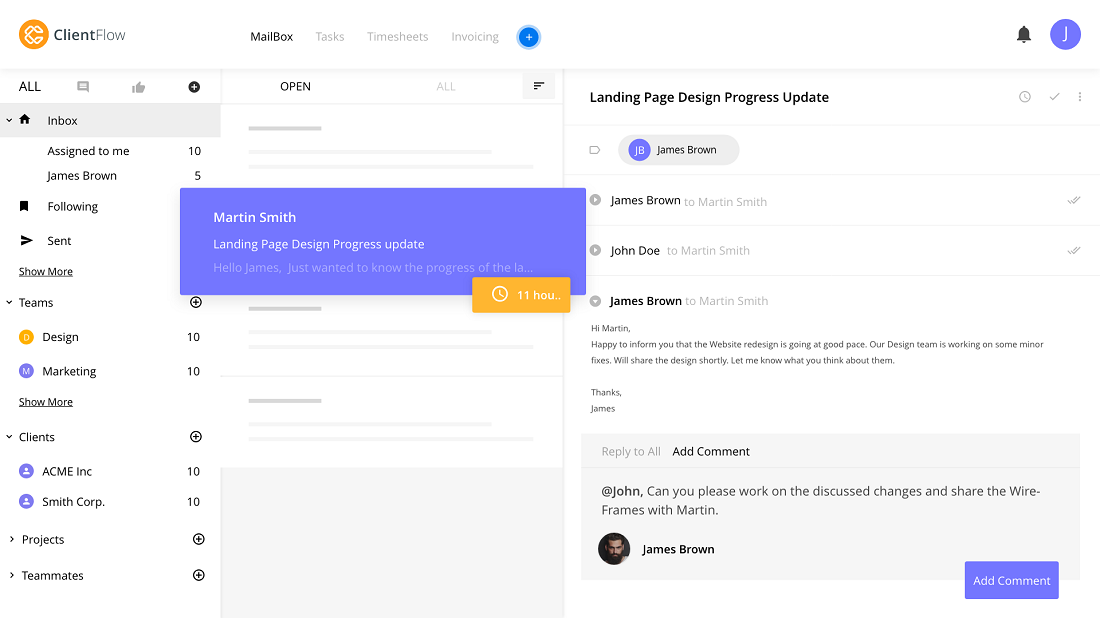 The main benefits of ClientFlow are its shared inbox feature that allows centralization of emails and the numerous project management tools offered to users. Here are more details:
Shared Inbox Feature
The highlight feature of ClientFlow is the robust shared inbox functionality that streamlines and unifies both internal and external collaboration and communication processes. Using this feature, every client-related emails can be organized in one inbox, allowing for easier creation of standard and custom responses. It also enables a simplified process of approval and management of requests as well as automating repeat conversations.
Every email in the shared inbox can be seen by all team members. Users and their coworkers can see incoming conversations and emails in their inboxes. This means that they no longer have to switch between group and personal email account to learn what the message contains.
Furthermore, since the communication among teammates is centralized, collaboration is inherently improved as well. Shared inbox facilitates group conversation, task designation, team members' coordination, and many more.
Extensive Project Management Tools
ClientFlow is lined with a wide range of tools that aid in the creation of projects and organization of details even before the team starts working. It easily empowers the designation of tasks, setting deadlines and due dates, and providing a description for each task and project without any hitch. The application also supports each person's pace of work by allowing users and their team members to tailor their respective dashboards. By modifying it to display schedules, tasks, status, and project details that are related to their current work, team members can plan and execute their actions accordingly.