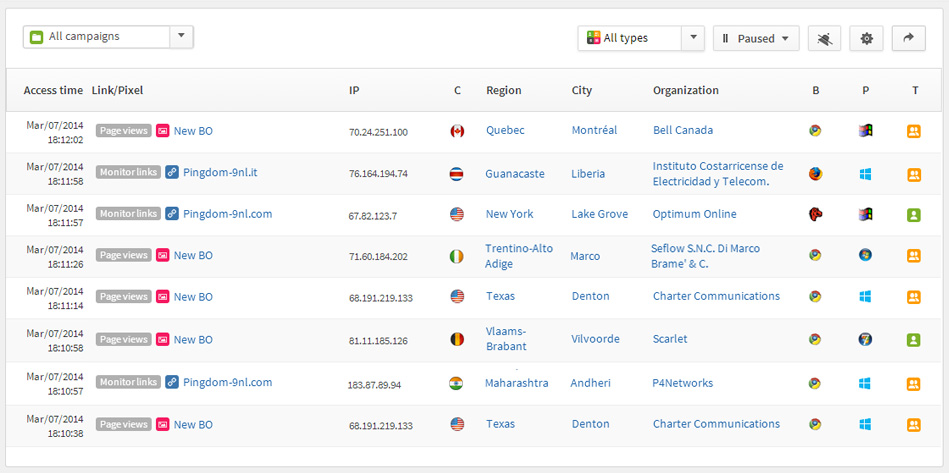 The main benefits of ClickMeter are it generates real-time data and insights about the performance of marketing campaigns, eliminates the technical challenges when it comes to monitoring marketing campaigns, makes it easy for users to come up with the right and best investment decisions, detects illegal and fraudulent click activities and interoperates with other tools for quick access to marketing data, reports, and insights. Find out how this solution can optimize your marketing initiatives through the following discussion:
Easy Marketing Campaign Monitoring
ClickMeter eliminates the technical challenges and difficulties usually encountered by brands, advertisers, and affiliates when it comes to managing and monitoring omnichannel marketing campaigns. They can easily utilize the tools and features built within the solution even if they don't have technical knowledge and skills like those ones related to programming or coding.
Useful Insights
This easy-to-use and straightforward omnichannel marketing solution allow various players involved in affiliate marketing to come with the right and best decisions. These players include brands, advertisers/merchants, and publishers/affiliates. ClickMeter produces useful insights into their marketing initiatives and efforts and helps them verify if their marketing campaigns across multiple channels are really working or not. Because of this, they will be able to employ marketing strategies that are worth investing in and get rid of those ones that don't produce positive results.
Spots Illegal and Fraudulent Click Activities
Marketing campaigns are vulnerable to illegal and fraudulent activities coming from various sources such as hackers, unfair competitors, greedy publishers, and angry customers. Today, individuals or sophisticated groups can now create and deploy illegal clicks using advanced techniques, malicious programs, or even manual procedures. This activity is also known as click fraud. What's great about ClickMeter is that it can also detect fraudulent and illegal click activities. As a result, users can obtain clean and accurate marketing campaign insights, segregating data from fraudulent activities and preventing them from paying for illegal clicks.
Real-Time Marketing Progress and Performance Monitoring
In ClickMeter, the process of monitoring the progress and performance of marketing campaigns are done in real-time. This means the solution captures and records the behaviors and activities of prospects, customers, and audiences right away as they engage with campaigns. As a result, users can quickly produce all the pertinent reports they need, generate insights out of those reports, and share them with their clients or marketing partners.
Great Integrations
All the data, reports, and insights generated by ClickMeter can also be delivered to other systems, tools, and applications that are connected to it. Thus, ClickMeter can be integrated with the tools that users are utilizing most of the time, enabling them to access marketing campaign data, reports, and insights from within the tools they love and improving interoperability between multiple tools.