Clarizen Review: Pros, Cons & Pricing of the Leading Project Management Software
March 23, 2017
0 Comments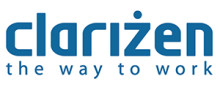 Price: $30
Our Score: 94%
What is Clarizen?

Clarizen is an enterprise-grade system that combines robust project-management with social engagement in a unique manner. It offers a host of essential features that enhance performance, which is why many Fortune 500 companies use this cloud-powered solution.

What makes Clarizen such a powerful app? As mentioned earlier, it combines project management and social collaboration to align your team and help execution of ideas. The main advantage is the platform is fast to deploy and easy to use which helps to boost performance. For these reasons, it is used by more than 2,300 companies in 76 countries across the world.

How can you use Clarizen for your company?

It is a single application that offers companies a well-defined work structure by linking projects, tasks, and conversations. You can use its collaboration features by connecting unstructured conversations at work with structured work. At the same time, you can manage your work, projects, and initiatives quickly and easily. Clarizen automatically prioritizes tasks, portfolios, resources, projects, and budgets, and ensures that critical resources and information are managed in the right manner.

Similar to other similar Clarizen reviews, our aim here is to help you gauge the product before you subscribe.
Main Features
Billable & Non Billable Work Items

Budget Tracking

Collaborative Planning

Custom Fields

Data Import/Export to MS Projects

Document Management

Document Sharing

Executive Dashboards

Expenses

File Sharing

Financial Indicators

Issue Tracking

Knowledge Management

Methodology

Mobile App for iPhone and Android

Multi-currency

Multi-language

Personal Calendars
Professional Services Management

Project Hierarchy

Project Percentage Completion Reporting

Project Portfolio Management

Project Scheduling, Gantt Chart

Real Time Team Updates

Resource Management

Risk Management

Role & Assignment Per Project

Salesforce Integration

Scheduling

Task Management

Template Customization

Templates

Time Tracking

Version Control

W

orkforce Management
List of Benefits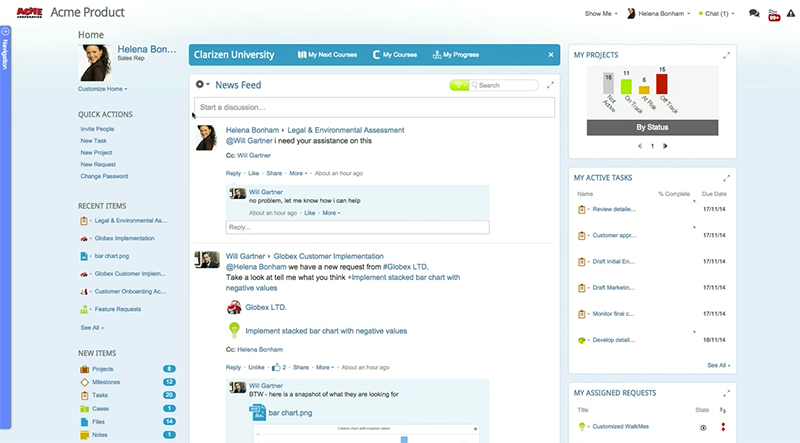 User-friendly interface
You will enjoy using the engaging social interface of Clarizen. It is simple to configure and personalize which is sure to make your working hours more effective and productive. Plus, you get the required transparency to drive profitability and boost business growth. With this app, project managers can ensure all tasks are delivered on time and within budget.
Effective collaboration
The one thing that we cite about this software in our Clarizen reviews is that the software is one of the best apps when it comes to enterprise-class project management and collaboration features. It harnesses the power of the cloud to enable you to complete work efficiently and with better results. Additionally, you can use its enterprise collaboration features to link social context with projects and tasks which can lead to improved productivity and profitability.
Project dashboards give a comprehensive view
Clarizen's collaborative work management collects all your work in one place including your unique workflows, files and reports, collaboration with partners and colleagues, and planned and unplanned activities. The app offers a unique combination of purposeful collaboration, flexible workflow automation, and cross-organizational project management. You can use these features to unite the work of your team members, minimize needless communication, and get full visibility at all levels of the company. With Clarizen, you and your team members can work more efficiently, achieve their goals, and deliver the desired results.
Mobile compatibility
The latest version of the program offers an advanced list of mobile and conditional formatting options, as well as enhanced data-analysis updates that you need not pay for. There is also a range of new profitability reports that add value to the list of project management benefits.
Easy administration
It is simple to do administrative work in Clarizen because of the clean interface. The app shows all modules on a single navigation bar, and you can choose from six views and a range of project templates. Plus, you can add notes and search for them easily. This feature comes handy when you import info from Microsoft Projects. In short, you can deploy and implement Clarizen in minutes without the need for extensive preparation and training. In this Clarizen review you will find more details on what the software has to offer.
Technical Specifications
Devices Supported
Windows

Mac

Android

iPhone/iPad

Web-based
Geographies Served
USA

UK

Canada

China
Germany
Japan

India
Pricing Model
Monthly payment
Annual subscription
Quote-based
Customer Types
Small Business
Medium Business
Large Enterprises
Freelancers
Deployment
Available Integrations
Android

Box.com

Browsers (toolbars and apps)

Excel

Google Docs

iCal

Intacct

Intuit Quickbooks

iPhone

JIRA

Lotus Notes

Microsoft Project

Mulesoft SSO tools (Okta, OneLogin, ADF, SiteMinder, PingIdentity)

Outlook

Salesforce.com

Team System (for engineering)

TestStuff
Additionally, Clarizen's open API (supporting both REST and SOAP), and MuleSoft connector can be used to integrate the app with other ALM tools.
Video
Available Support
Phone Support
Email
Live support
Training
Tickets
Software Pricing
Clarizen offers a 30-day free trial as well as two paid editions:
Enterprise Edition – $45/user/ month
Unlimited Edition – $60/user/month
Professional service teams can also use the Clarizen Salesforce Edition ($100/user/month), integrated with Salesforce and Gainsight.