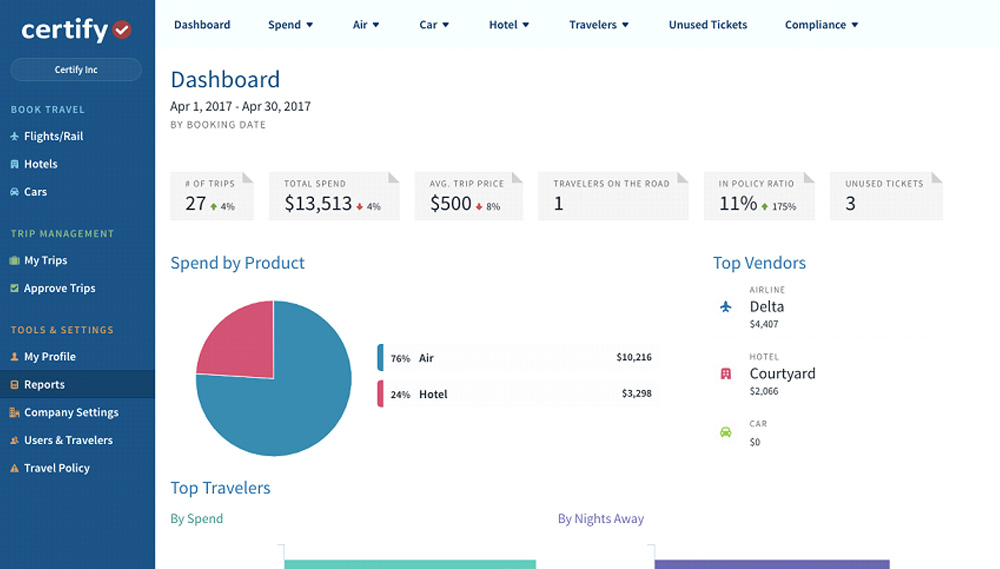 The main benefits of Certifiy.com are it expedites travel expense reporting tasks, supports mobile travel expense capturing, and allows users to spot affordable yet reliable car rental and hotel booking opportunities. Here are the details:
Expedite Travel Expense Reporting
Certify.com helps business executives and staff produce and send reports that show detailed information about all expenses they have incurred during the business and work-related trips. These expenses cover the vehicles they rented, the hotels or units they stayed in, and the food they consumed during those trips. Ceritify.com expedites travel expense reporting tasks, making it easy for users to achieve compliance and avoid instances overspending.
Capture Travel Expense Data Using Your Mobile Devices
Another awesome capability included in Certify.com is travel expense capturing. The travel expense management platform allows users to capture expense data using their mobile phones. They can scan paper receipts and keep them within the platform in digital format. Later on, when they are preparing travel expense reports, they can access and retrieve these electronic receipts and include them in their reports as supporting documents.
Discover Affordable Yet Reliable Hotel Booking Opportunities
As previously mentioned, travel expenses involve expenses incurred for hotel bookings. What's great about Certifiy.com is that it enables users to spot hotels and inns that are affordable yet can give them great guest experiences. The platform, moreover, permits them to create their own itineraries so they can enjoy their business or work-related trips without hurting the budget of their organization.