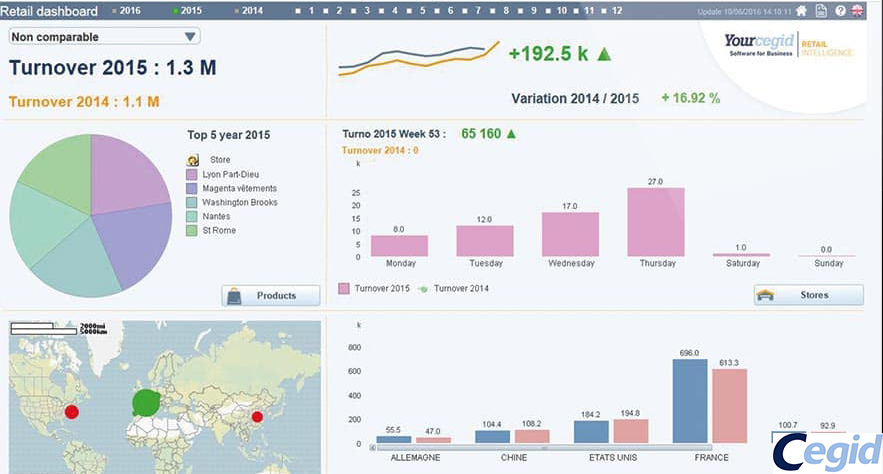 The main benefits of Cegid are its functional design for easy customer-employee interaction, virtual customer shopping, and mobile integration. Here are the details:
Cegid is a comprehensive solution created to allow retailers to handle sales, inventory management, staff monitoring, and customer experience. It features an appealing design that makes it functional for customers and employees. Its interface offer options for traditional stores and mobile users. From its welcome screen, everything is highly accessible to make it easy for customers and employees to interact easily.
Its omnicommerce feature allows your customers to shop from anywhere. This functionality incorporates channels and processes to provide reliable shopping experiences to customers across your networks. Customers are also enabled to choose store-to-home or store-to-store delivery. This feature also organizes all customer interactions, regardless of where, when, or what device they're using.
The software provides mobile integration to allow employees to confirm stock levels in real-time, provide correct product data, and process replacement orders. Also, the multi-channel integration easily helps your employee process refunds, exchanges, and payments through PCI compliant Point-of-Sale.
Its internal merchandise management feature is at the center of automated inventory information. It offers quick stock replenishment, regular inventory check, and forecasting, depending on your sales and promotion level. It gives you the liberty to customize your stock replenishment modes to fit your business needs. The software provides a customizable analytics and reporting dashboard that presents business insights through charts and graphs. Insights are offered with built-in analytics and forecasting which make it easy for you to track retail performance and budget.