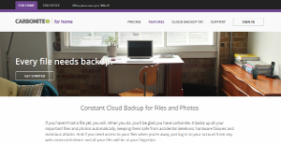 The main benefits of Carbonite are its easy recovery process, secure backups, and secure platform.
Carbonite can provide backup for any file and its formats without affecting your website speed in any way. Since the data is outside your computer, it won't take up space on your devices and use all those processing power on business tasks. The data can also be taken from internal or external hard drives.
Losing files is also no problem with Carbonite as it has a simple step-by-step recovery process. The data recovery takes 30 days from the server and has many file versions that your file can revert to if you are a Windows user.
Meanwhile, Carbonite's data centers are sturdy and keep your data secure using the best facilities. Its servers are in a temperature controlled environment with a 24/7 uptime and are always on throughout the year. It is also powered with backup generators and uninterruptible power supplies, which ensure that no power outages can take the servers down.
Lastly, the app also has a mobile device compatibility that allows you to check data on the go. As long as your smartphone and tablet have an internet connection, you can check on their data through this app.