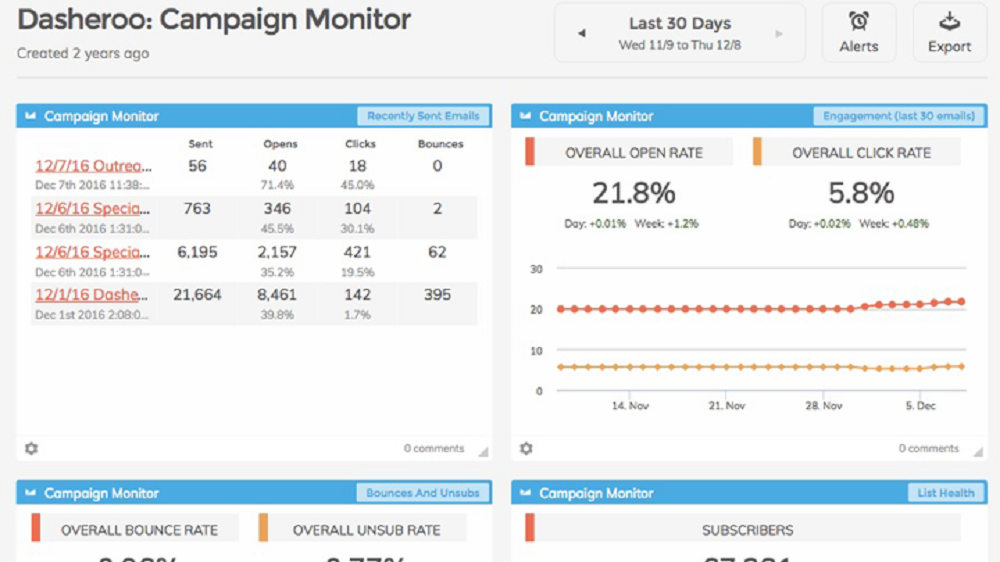 The main benefits of Campaign Monitor are its email builder for creating effective and beautiful campaigns, personalization features to make branded emails, automation of marketing campaigns, and monitoring capabilities for measuring emails' effectiveness. Here are more details:
Stunning and effective campaigns
Campaign Monitor has an email builder tool that utilizes a drag-and-drop functionality in order to design professional-looking templates. Users can then use this to create their own unique, branded, and more importantly, responsive, emails. Its DIY builder is made to optimize all personalized emails for everyone, regardless if they're viewing them on mobile devices or desktop.
Personalized email content
In order to make emails more powerful, users are given the option to personalize them with its easy-to-use tools that are robust enough for customization and segmentation of lists so that relevant messages are sent to the right people. The feature of list segmentation is for sending relevant messages to prospects who are most promising and have the highest chance of a conversion. Tools for list management are used for webhooks, triggered messaging, personalized content, and subscriber segmentation.
Campaign automation
Automated campaigns are effective in working in the background. All users have to do is import customer and subscriber information and set them up, then it is ready to go. They only have to sit back and wait since the app will send pre-designed emails at to the right people at proper times.
Monitoring of the campaign's performance
With its interactive analysis, Campaign Monitor can provide users with insights regarding their email's effectiveness in real-time. It provides information about how customers are sharing and engaging with the content as well as the effectivity of the call to actions attached to them. Moreover, users can utilize its reporting components and robust analytics in order to know who opened the email and which part was the most interesting to them. It even displays customers who shared the emails.