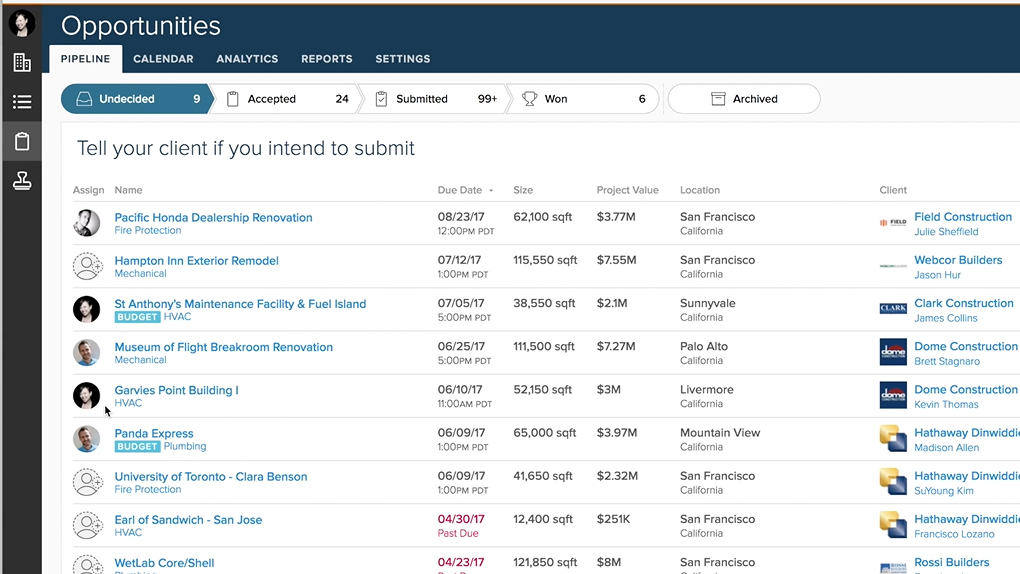 The main benefits of BuildingConnected are its efficient bid processes, relevant data from bids, and confidential transaction. Here are more details:
Streamlined bid processes
BuildingConnected helps users in carrying out a successful bid which means that they would gain competitive contractors to participate in the entire lifecycle of the activity. It connects all involved stakeholders to facilitate in organizing and managing the whole procurement process; from inviting bids to choosing suppliers and from issuing procurement orders to clearing invoices. All of the processes are done through the system's simple and easy-to-use interface which joins all the dots of the activities throughout the procurement workflows.
Extract data from bids
Businesses are able to extract relevant data that are obtained through daily reporting and the monitoring conducted on its screen. They can get detailed information about the actions and performance of the bidder, quality and inspection of acquired items, costs, supplier relationship, and performance analytics. The information that the system provides are all easy to obtain thus it can save a lot of time of the users. It generally brings automation on the overall system of bid management.
Transactions are private
Unlike most processes, bidding is not something that is done openly. For that reason, BuildingConnected provides users with confidentiality management feature to ensure security when sealing bids and NDAs. Bids can be sent by contractors and subcontractors in the digital format without worrying about their protection on the process.