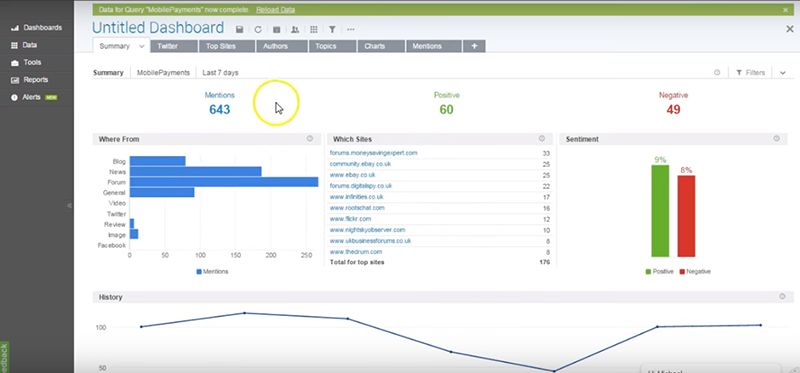 The benefits of Brandwatch are, the ability to scour social media to draw brand insights, monitor engagement and target specific audiences. Here are the details:
Brandwatch allows business to track the online presence of specific segments. Social networks like Twitter and Facebook, forums, blogs, and news sites are all covered by the tool. Businesses can use the tool to search social media for terms they are researching. Further insight can then be drawn by using analytic features like sentiment analysis, categorization, and charting.
Businesses who use Brandwatch also get engagement, monitoring, and workflow features. With more than 90 million sources and complete coverage of tweets sent out via Twitter, businesses can easily assess competitors, look at campaigns, and track trends.
Components like metadata, categorization, geolocation, and graphing chop and slice business data to provide businesses with useful insights.
Brandwatch also helps businesses effectively engage target communities. With it, businesses can assign workflow and easily handle and respond to social media mentions.
Brandwatch also uses 22 Boolean Operators, more than any other platform on the market, giving its users power and flexibility when they create queries.
Brandwatch's proprietary technology also gathers information from more than 70 million sources. The information Brandwatch provides is information they harvested themselves, unlike other companies who buy parts of their data from providers.
Rather than supplying companies with data, it believes they want the company to see, Brandwatch lets business control their own data. Using the tool across multiple departments gives the users a vast amount of information, and all without any added cost.
Updates on Brandwatch happen every two weeks as all of its data outsourcing and development is done in-house. This makes it perfectly suited to adapt to changing demands, and agile enough to meet last-minute needs or demands.