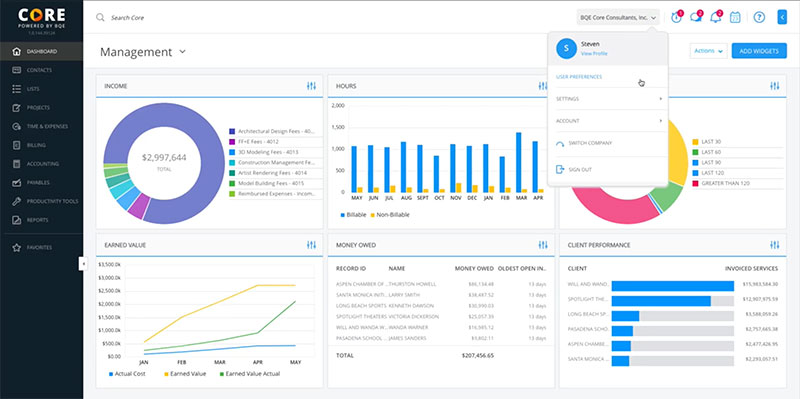 BQE Core improves efficiency by automating repetitive tasks and keeping all your projects, billing, files, accounting contacts and more in one place. On top of that, it offers flexible billing options and accurately tracked hours to ensure no billable hours slip through the cracks. Core is available across all major platforms so you get the flexibility and freedom to run your business successfully anywhere in the world.
What are the major features and benefits of BQE Core? It is a cloud-based solution that offers integrated project management, business accounting, and business intelligence. It can be profitably used by companies in a range of industries including graphic and interior design, consulting, accounting, engineering, architecture firms, legal services and more.
BQE Core can be accessed from any device or browser and has native apps for Android and iPhone devices. The platform comes with more than 200 customizable report templates to generate different invoice types: joint, phases, hourly, fixed, recurring, retainer, percent complete and more.
As mentioned earlier, BQE Core smoothly integrates with popular third-party accounting software solutions and has certified partnerships with Amazon Web Services, Google Drive, Dropbox, MYOB AccountRight Live (Australia), and QuickBooks Online.
Our BQE Core reviews confirm that with the application's customizable dashboards you'll be able to easily see how your business is doing in real time and make adjustments to challenges before they balloon into major issues. In short, BQE Core is suitable for small to mid-sized businesses that wish to invest in a professional services solution with built-in customer management and accounting functions.