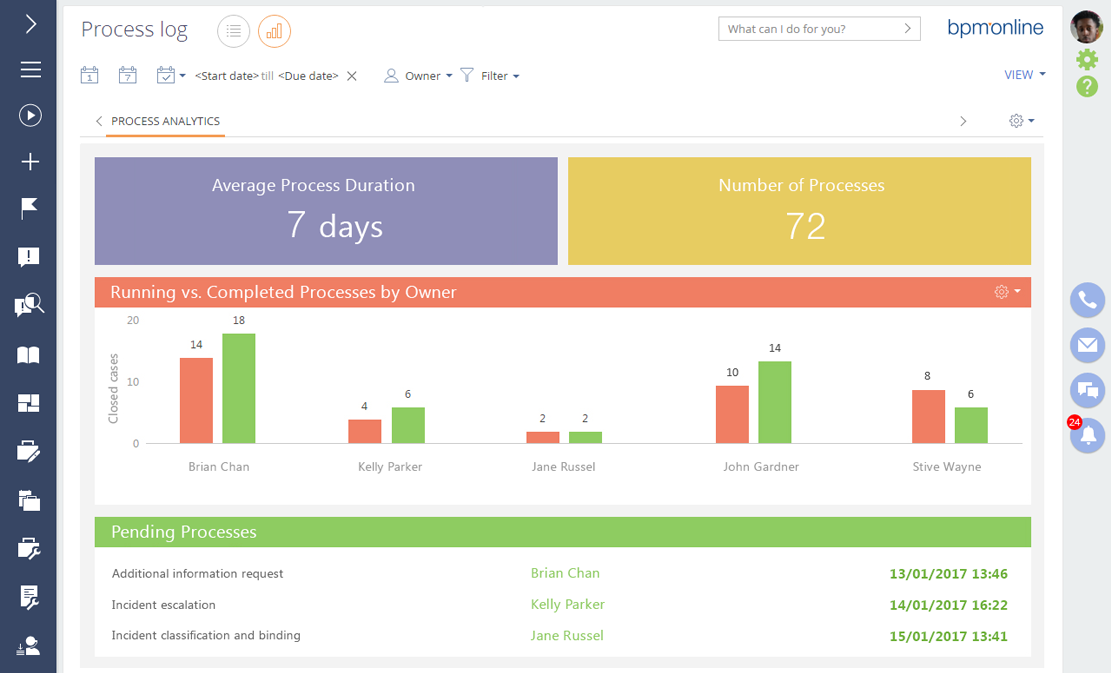 The main benefits of bpm'online studio are its comprehensive feature set, scalability, and great integration. Here are more details of its benefits:
For medium or large companies operating in service, sales or marketing industries, bpm'online studio is an all-in-one business management provider because it contains all the relevant management services they would need. The product eliminates the users' need to constantly adjust to the unending changes in the business environment by keeping the changes in the loop and adopting to them accordingly.
bpm'online studio users do not have to undergo excessive training to utilize the product since the interface that they work on is highly interactive and resemble a social network. The platform has a dashboard that disseminates relevant information to users such as lead generation, accounting operations, sales management, and excellent customer service. The dashboard, however, does more than displaying information as the users are given all the necessary tools to control the process such as changing and maintaining vital practices even without much technical knowledge.
bpm'online is ideal for large and remote teams to use as their managerial service provider. This is because when service, marketing, and sales teams are gathered under one system, it would be easier for companies to connect the operations between. This also allows file sharing and would streamline the communication between them. The entirety of the functionality of the system is customer-focused as well as built for different types of industries.
The company's marketing strategy team can use the platform and its many productivity tools such as lead nurturing, demand segmentation and behavior tracking to effectively manage their leads. The creative team can utilize bpm'online studio to design more interesting and engaging campaigns for the company as well.
bpm'online studio can be used to facilitate the entire process of sales deals, from ordering to delivery. Not only is the product used to manage leads, but it also assists in the works of large companies by providing a management tool for their inventory, invoicing, billing and a lot more accountancy-related processes.