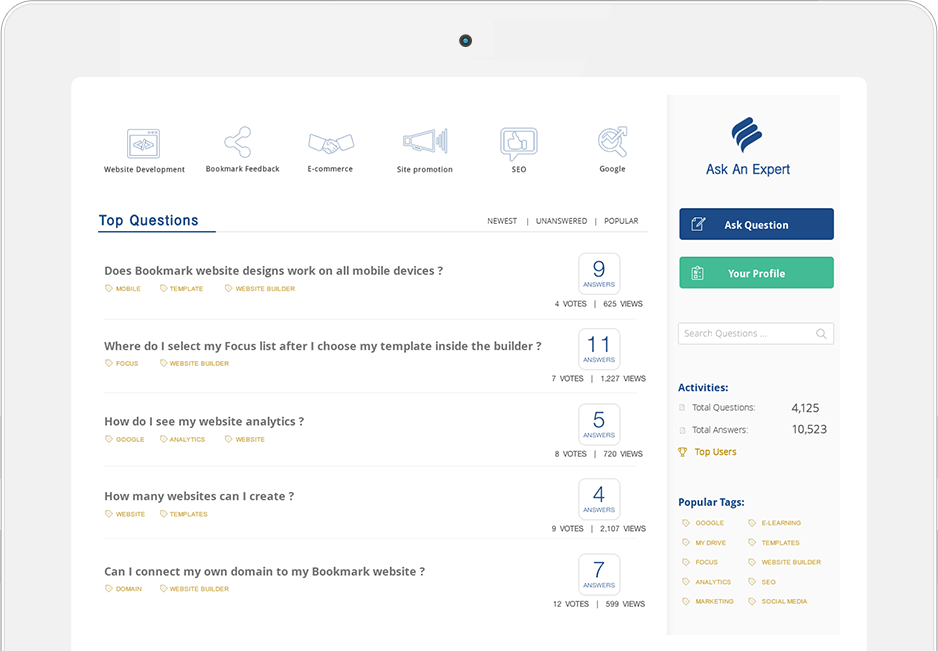 The main benefits of Bookmark are its customizability, innovative design technology, and easy to use. Here are more details:
Easy to Use
One likable aspect of Bookmark is that it is easy to use. With the drag-and-drop interface, the platform enables users to create stunning websites with less effort. The one-on-one support coupled with the ability to modify key aspects on the fly makes this solution the best websites builder for newbies and well-versed developers alike. Its unparalleled simplicity coupled with millions of customization options enables businesses to tailor websites that meet their exact specifications and preferences.
Innovative Design Technology
In addition, Bookmark offers a proprietary design assistant known as AiDA. AiDA is an innovative artificial intelligence assistant that enables users to create beautiful, and responsive websites for personal or business use. The assistant leverages a wide range of customization options and allows users to create combinations that deliver the best website possible. It empowers users to create websites that feature the desired feel, look, and navigation. Ultimately, Bookmark makes it easy to create and configure websites that customers will surely love.
Customizability
As mentioned earlier, Bookmark features an intelligently designed assistant that is created to streamline website development. The assistant does the donkey work and leaves users with the simple task of customizing the website. The only limit to the level of customization users can implement, is their creativity.
Bookmark includes millions of customization options and gives users the freedom to define what they want, the functionalities they need to add to the website, pictures, themes, and much more. Basically, users are free to define the purpose of their websites and create websites that perfectly match these purposes.