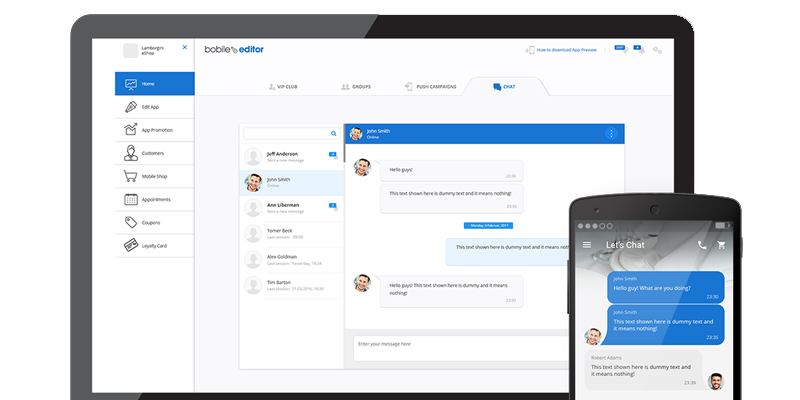 Utilize a Range of Templates and Themes
bobile offers a range of app templates that you can use to perform tasks such as redeeming coupons, making purchases, and scheduling appointments, directly from the application. Plus, it creates different user interfaces for Android and iOS apps with OS-specific layouts, buttons, headers, menus, and more. More than 200 themes are inbuilt including holiday and season-specific designs.
Offer Excellent Features in the App You Create
bobile's 'Mobile Shop' layout empowers you to sell your products by creating a dedicated mobile app. You can offer features such as payment processing for credit cards and eWallets, secure shopping carts, and multiple shipping methods. In addition, you can promote specific items on the app's main screen and offer promotions and discounts to customers.
Add loyalty programs such as discount and reward schemes, and a punch card to motivate your customers to buy more. bobile also offers features such as weblinks, PDF uploads, live chat, and push notifications. It automatically notifies you about events such as coupon redemptions, scheduled appointments, and purchases made.
Other Major Advantages
You can create a mobile shop to sell products directly from your mobile app. Mobile booking feature enables your customers to schedule and change appointments and they can get automatic reminders to minimize no-shows. You can also provide personalized coupons and offers to your customers and they can redeem them when they pay directly from within the app.
A major highlight is the addition of push messaging capabilities in the mobile apps as you can use this feature to send information to your customers and interact with them any time. Finally, you can utilize the live chat tool to chat with your customers in real time to answer their queries and resolve issues.