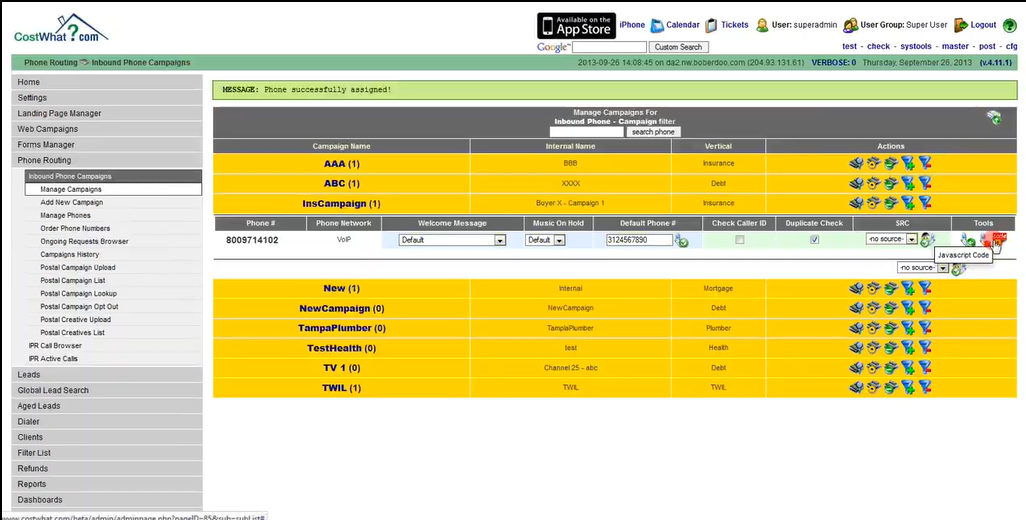 The main benefits of Boberdoo are it helps you manage inbound call routing, improves targetting, streamlining management, and generates comprehensive reports. This is targeted for those that sell phone leads. Many customers make their contract information publically available through tri-media ads and online ones. These are automatically routed to Boberdoo according to pre-decided preferences settings. The tool has also the technical flexibility as it can ping leads and even has distribution directives.
Processes that people may find menial and routine can be automated using Boberdoo. These include lead management, billing, reporting, and distribution. With these capabilities, users are therefore armed with one of the best leads management and generation system in the business. Processes such as inbound/outbound phone routing, ping post, and traditional web leads are not only executed in a fast and reliable way but they are made more convenient for users.
Users also enjoy the backend program provided by Boberdoo. This segments, tracks, and distributes leads in real-time. Web lead routing is also done in real-time. Furthermore, call routing is available and is executed following the same scheme as that of web leads. Boberdoo routes and bills both international and domestic calls in this manner. This is perfect for click2call campaigns, raw calls, or live transfers.
Ping post is also powerfully supported by Boberdoo. It includes advanced pricing scenarios that include shared legs and hashes. It also provides options for dynamic calculations of profit margins. With Boberdoo, affiliate management is a breeze. There are four payout types available. You can even customize affiliate logins. Host-and-post phone and web campaigns can be executed quite conveniently thanks to features such as the form builder.
Moreover, Boberdoo generates reports and bills for each lead. Payment options include automated invoices, auto re-billing, and prepay. All in all, Boberdoo is an intuitive solution that simplifies the lead generation process from extracting of leads to payment. If this sounds like the solution for you, please contact the vendor for a quote-based plan and its pricing details.