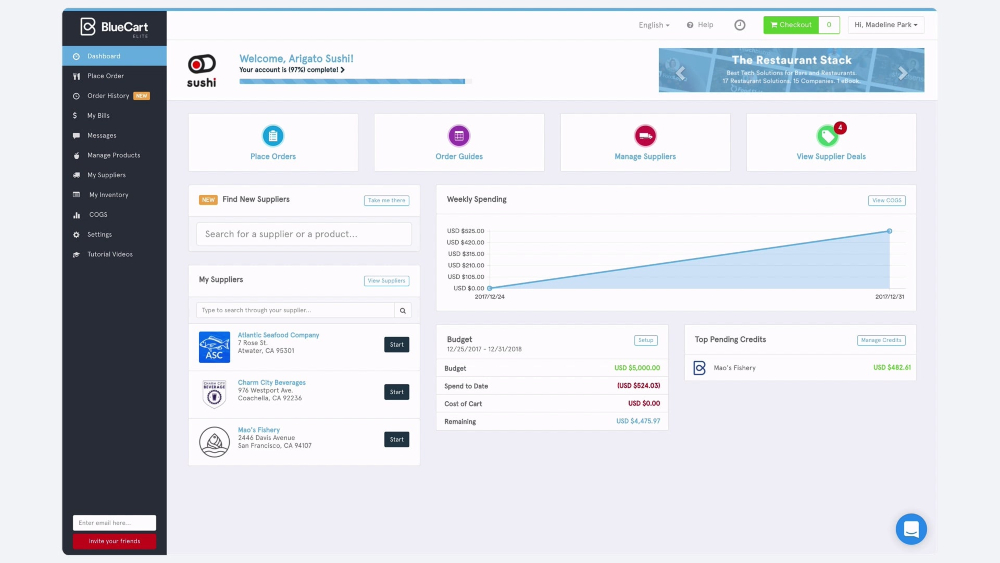 The main benefits of BlueCart are it simplifies transactions, streamlines operations, and unifies communication channels.
With BlueCart, businesses can offer their customers mobile and online ordering options, which makes things more convenient not just for their clients, but for themselves as well. There is also no need to manually handle invoicing, payment processing, and other calculations related to the sale as BlueCart can handle it on its own.
BlueCart's single system and centralized database can handle multiple businesses, allowing for the standardization of operations. This also results in a reduction in employee workload, reduced labor cost, and increased productivity in the workplace. Users can do side-by-side monitoring of their businesses, as well as make sure that inventory levels across locations are aligned.
Communication is made easy by BlueCart, as the tool lets users have one mailbox to receive all their emails, texts, voicemails, calls, and faxes. There will be no need for platform-switching as users can look through emails, answer calls, and monitor messages all from BlueCart.
The app's inventory management tool tells businesses when their stock is running low so reorders can be made. Items can also be cross-checked once the orders arrive. This way, no transaction is overlooked and users do not need to worry about a depleted inventory.
Vendors will appreciate how BlueCart helps them deliver requests accurately, minimizing the risk of items being replaced or returned. With fewer returns and replacements, the company has a chance to increase sales and grow.
BlueCart also gives vendors a platform to promote their products. There are more than 20,000 potential clients on the app and a sale or deal that gets promoted to the app's Top Deals section gets a chance to be visible out to all those people. Customers can also get personalized offers from vendors, who can either highlight a product to a specific client or adjust their pricing to make it more enticing.
The app also comes with a messaging function that can lessen order times and encourages collaboration among the team and with clients.