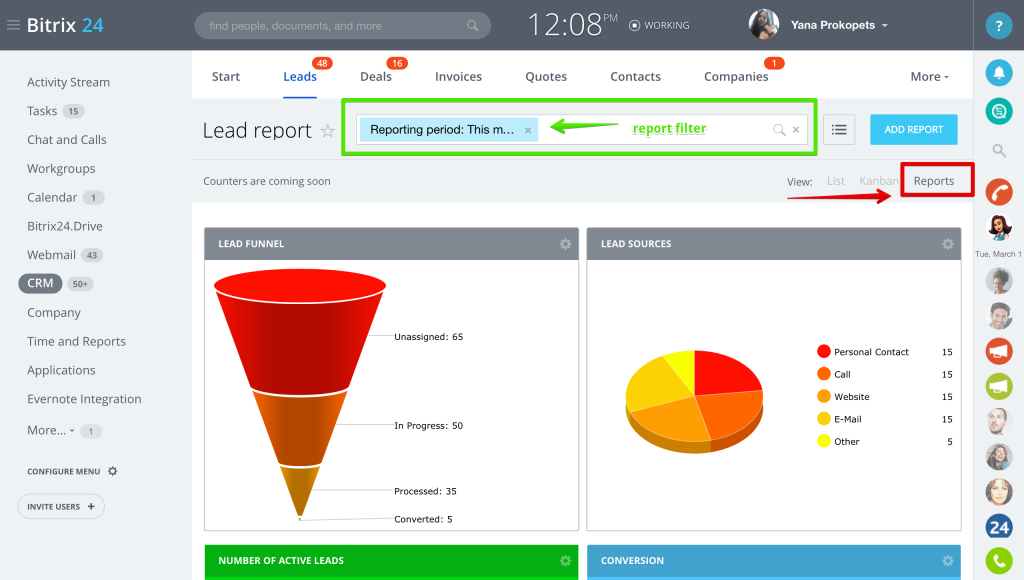 The main benefits of Bitrix24 are its robust feature set, flexible pricing and scalability.   Here are the details:
CRM Integration
Through CRM integration, your business can centralize information, activities, projects, and tasks—all in one. You don't have to use several applications for solving different issues because Bitrix24 is robust. Uploading and sharing files with your coworkers are possible with this tool. Overall, organizing projects and schedules and storing data are made easier through the application.
Manageable and Secure Communications
Bitrix24 allows you to manage both internal and external communications using solid and secured modules. This platform supports intranet services including wiki, files, conversations, email notification, tasks, photo gallery and more. Using this app, you can make or receive virtual telephone calls. Meanwhile, social searches require access permissions to continue.
Better Company Structure Using Management Tools
The solutions offered by Bitrix24 are designed to speed up, organize and improve your business processes. It comes with a wide array of management tools like time-tracking, planning, employee directory, task reporting, work check/in-out, employee directory, and absence chart. Outlook and CalDAV sync enable users to access time planning tools including calendars, meeting manager and event scheduler. Bitrix24's document libraries are equipped with WebDAV versions and flexible permission features.
Flexible Plan Options
Bitrix24 is available in different pricing plan options. Paid plans allow users to explore all functionalities and tools of the application with additional online storage. You may opt for the free, plus, standard and professional plan depending on your business needs.