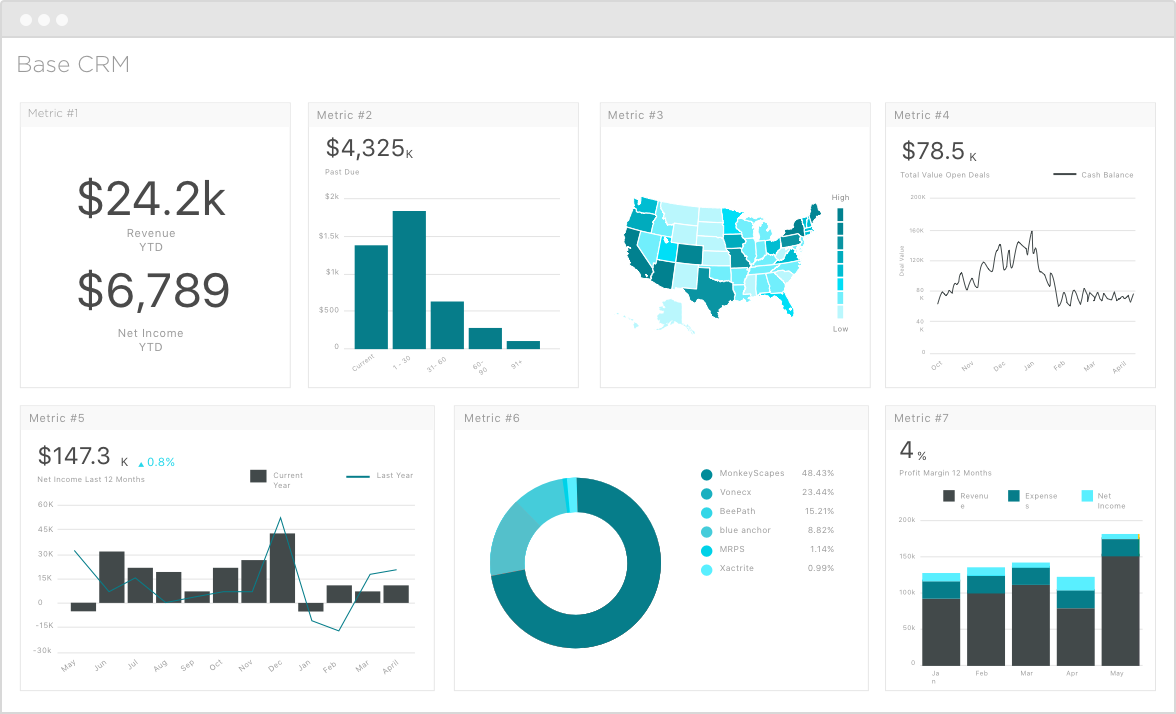 The main benefits of Base CRM are offering a centralized system, providing an easy-to-use platform, improving collaboration, and ensuring comprehensive customer insights. Learn more below:
Centralize
Base CRM puts everything in one single dashboard for easy management. It links to your email account, phone, reporting, and scoring packages. It comes with sales tracking and storage. All previous sales are stored and categorized. This helps declutter information and file them accordingly for future reference. Furthermore, you can also import CSV files and let Base match their fields with its own database. This saves you time and helps you accurately manage your database.
Intuitive Interface
Base CRM offers tremendous features that are all cleverly packed into an aesthetically pleasing and clear dashboard. There is virtually no training required, much less programming skills. One can even integrate it with third-party applications easily. The learning curve is not steep at all and one can be working with Base in just a few minutes.
Collaboration and Analysis
The solution also allows users to generate forecasts and predictable revenue goals. The information is then made available to every team member. This makes collaborating easier as all people involved are on the same page and the same objectives in mind. Furthermore, Base can track and store chat conversations, voice conversations, and other communications with leads and colleagues. You always can revisit details in meetings and presentations that you cannot remember.
Visualizations
Base CRM's reports are offered in an easy-to-understand manner. These can easily be printed out or copied for presentations. What's more is that all of these are automatically generated. You need not make calculations of your own. There will be more time for analysis and presentation than prepping graphics and numbers.
Go mobile. You can keep in touch with the Base CRM platform wherever you are and anytime you want with your smartphone. You can access critical customer information before appointments and report back directly after they are done. This is especially useful when you engage in cold calls or are texting with leads. Additionally, your communications with your contacts can be stored and synced. This makes them easier to sort and find in the future.
Integration. Base CRM can be integrated with many popular third-party platforms such as Google, Twitter, Facebook, MailChimp, Harvest, and Xero among others. This eliminates lags caused by the switching of apps and the opening of new windows. Base CRM is truly a hub that helps you manage all of these customer touch points easily.
Customer Support. Base CRM experts are always ready to answer questions or troubleshoot problems if there are any. The Base CRM team is trusted by many prominent brands such as Cisco, Xerox, and Wells Fargo among many. As a company offering CRM tools, they are also adept at managing their relationships with customers. When you sign up, that includes you too.