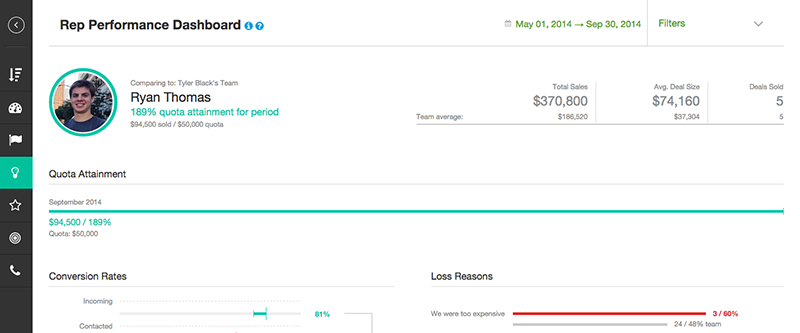 Base CRM offers a full set of tools to help you enhance sales productivity. Its sales tracking feature allows you to customize sales stages according to your needs and track opportunities. The sales pipeline section stores and categorizes all sales deals and here you can customize them and add collaborators, records, and leads as per needs. Plus, you can import your CSV data files and map their fields with Base CRM fields to get a match. This is done automatically by the system, but you can also manually add records and fields as required.
According to this Base CRM review the best part is you don't need programming skills to use Base CRM as you can easily navigate the user-friendly dashboard. On top of that, the app offers familiar functions and features that can be used even by non-techies to boost their company's sales and profit.
If there's one recurring benefit you'll notice in many Base CRM reviews, it is that it makes it simple to set up your team's revenue goals. With this solution, you can eliminate confusion regarding the tasks and goals assigned to your team members. The system offers collaboration features for secure file sharing as well as multiple integrations and seamless flow of data between platforms. Based on the data entered in the application, you can use Base CRM to track communication and store voice calls and discussions you have had with partners and leads.
Finally, you can manage your customers in a single system that can be accessed even on mobile devices. The solution keeps track of all your phone calls and other exchanges you have had with your customers. The app automatically syncs and sorts your customer emails to enable easy recall and to help you with a more integrated customer relationship experience.