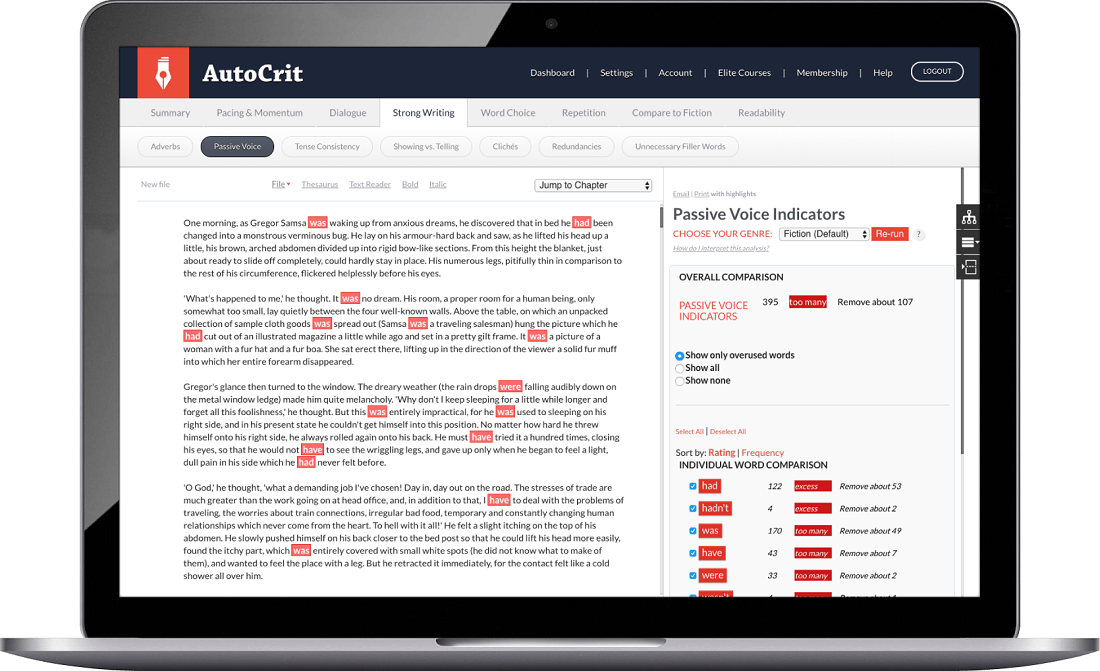 The main benefits of AutoCrit are the six-fold analysis method it employs, quick highlighting of areas that need editing, progress tracking, generation of dynamic summaries, enabling comparison with other books, and its word by word analysis feature. Here are more details:
Six categories for analysis
AutoCrit does its manuscript analysis by using six categories: strong writing, dialogue, word choice, pacing and momentum, comparison to fiction, and repetition. Each section has its own area of analysis, which improves the writer's work, giving it a stronger presence and better quality.
Quick editing
Using AutoCrit enables users to quickly find areas that are in need of editing because after the application has analyzed the content, it highlights the exact sections or words that need review. This eliminates the need to manually find those areas, giving authors more time for their analysis.
Progress monitoring
The platform comes with Fingerprint and Score features that quickly shows the writer's progress in polishing their work. This is to address the fact that it is important for authors to be kept informed of how far they have gone and how much more they have to go to edit their manuscripts.
Summary generation
Writers will no longer need to scan their manuscript from the beginning to end in order to find the summary, AutoCrit does that for them. It analyzes all the contents of the manuscript, creates a summary out of it and then gives the author accurate recommendations such as where they should begin editing.
Published work comparison
Whether they're veteran authors or greenhorns, users are allowed to compare their manuscript with the works of other writers whose fictional stories have been published.  Users can also choose which genre AutoCrit is going to use for evaluating the story through a proprietary algorithm.
Word flow analysis
AutoCrit aids users in ensuring their stories are having a good word flow by pointing out the excessive use of certain terms. It then suggests how much of the repetitions made must be removed to reduce redundancy.