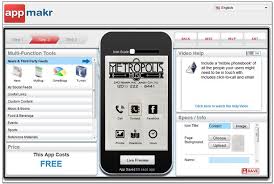 The main benefits of AppMakr are its easy-to-use tools even for new users, highly customizable app settings, and application quality control features if needed.
AppMakr makes application development a cinch for any user, which makes it a popular pick. Coding skills are not needed and users will just need to drag and drop the procedures and the development process will be handled by the app.  The platform also comes in with built-in, easy-to-follow guides that help users to make the apps on their own.
Moreover, AppMakr also has the WYSIWYG simulator that features real-time results as the user proceeds with each development step. The simulator shows up on the right side of the screen while the user can see each step made during the development as part of the simulator's features.
The app creation process includes inserting text, video, audio and HTML elements. Upon addition, the platform will assist the user as they publish the app on the online stores. App quality assurance is also possible as the platform has many reliable app testing tools. Apps can also be changed and updated once published outside the platform.
Lastly, the platform allows users to monetize the apps and remove its ads in the process. The app also has multi-language support that enables the users to aim for a worldwide customer base.