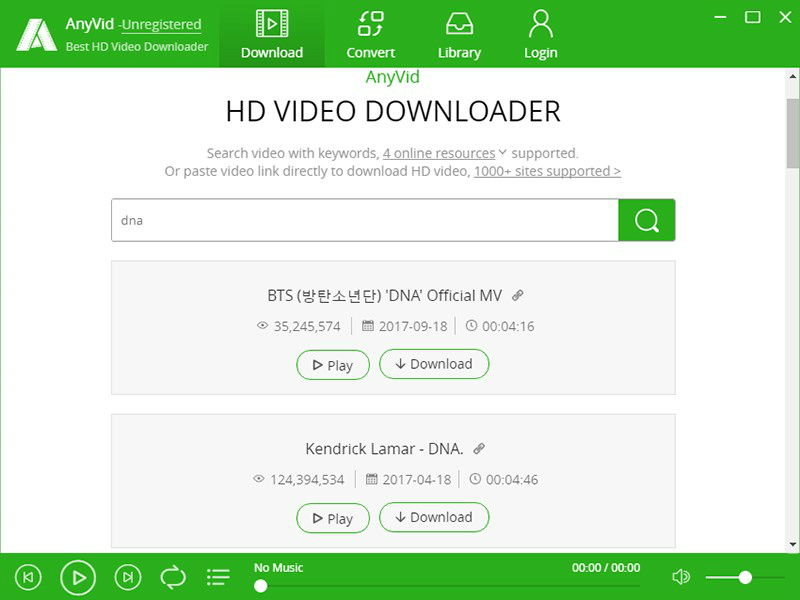 Search and Find Videos
AnyVid has an inbuilt search engine that enables you to search for a specific video or song by using filters such as song name or artist, or by entering the URL. This eliminates manual work and makes the software superior to other downloaders.
Preview Before Downloading
AnyVid's inbuilt player allows you to avoid bait audio and video as you can preview the content before deciding to download. This helps you to avoid downloading wrong media.
Supports Multiple Formats
AnyVid reviews show that the software supports a wide range of file formats such as MP4, M4A, WebM, and 3GP that are compatible with popular devices.
Find New Music
The "Discover Music" feature allows you to get new songs that you find interesting from different sources.
No Ads or Plug-ins
A lot of downloaders try to generate revenue by forcing ads and plug-ins on users. These are annoying as the ads can be a nuisance, while the plug-ins can affect the performance of your PC. AnyVid is superior to such downloaders as there are no disturbing ads or plug-ins and you can use the software without interruptions.
Download YouTube Playlists
Many people create playlists on YouTube that feature their favorite videos. AnyVid allows you to download full YouTube playlists so that you can play the videos offline any time you like.
Organized Library
Quite a few downloaders do not have a library which is essential to keep track of the media you have downloaded. AnyVid has an organized library feature that enables you to keep a record of the media files you have downloaded utilizing the software.