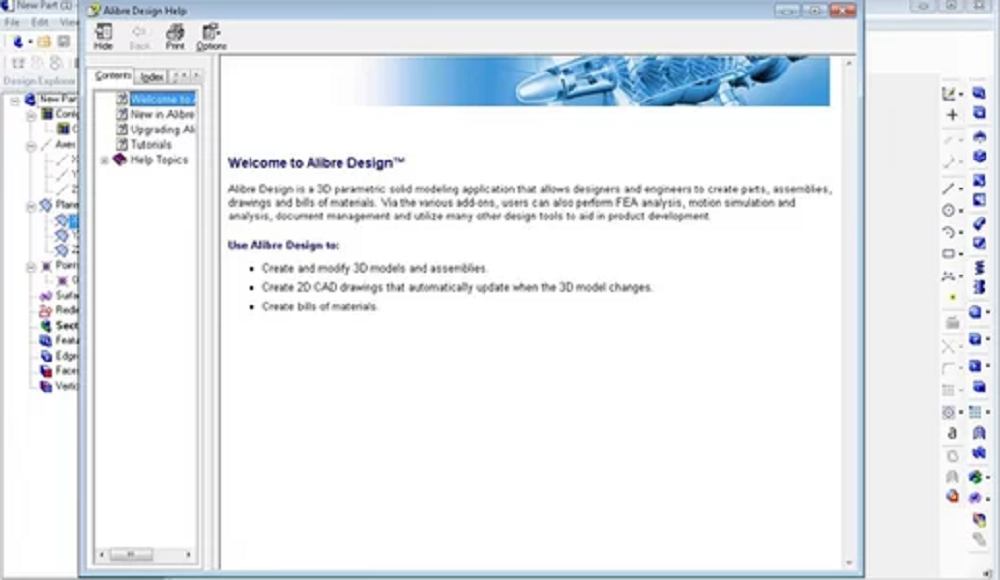 The main benefits of Alibre Design are its top-notch 3D modeling tools, user-friendly editing, 2D modeling support, sheet metal modeling support, keyshot technology, mesh data support, and support to an extensive file format. Here are more details:
Top-notch 3D Modeling Tools
Alibre Design offers powerful tools that users can utilize to create complicated mechanical parts from scratch or by importing existing parts. With this application, users can assemble scattered parts to create precise end-product.
Ease of Editing
The software comes with a drag-and-drop function that helps users produce their designs exactly as how they envision them with ease. All they need to do is click on their needed item and bring it to the destination platform. In addition, there is a WYSIWYG functionality that allows users to see what their end-product would look like in real-time. It also helps in ensuring that the finished product appears and functions as intended.
Supports 2D Modeling
Alibre Design is originally designed for mechanical 3D modeling. But it can also be used for 2D drawings for manufacturing. The set of tools for this functionality is customizable and extensive, ensuring that users will have what they need to create their designs.
Supports Sheet Metal Modeling
The system offers an array of tools for sheet metal modeling. All the needed materials for metal-related tasks are stored in one toolbox so users will not have any difficulty finding the tool they need and save time in the process.
Keyshot Technology
Alibre Design incorporates a powerful keyshot technology for pixel-precise renders. This feature allows users to render the models photorealistically, making it easier to use the models in websites as well as marketing materials.
Mesh Data Support
The platform helps users organize Mesh Data that comes from numerous different sources with ease and even incorporate them into the existing workflows.
Works with an Extensive Range of File Formats
Alibre Design can work with an array of file format for export and import, making the system interoperable. Also, users can edit the generated designs in other apps for other uses.