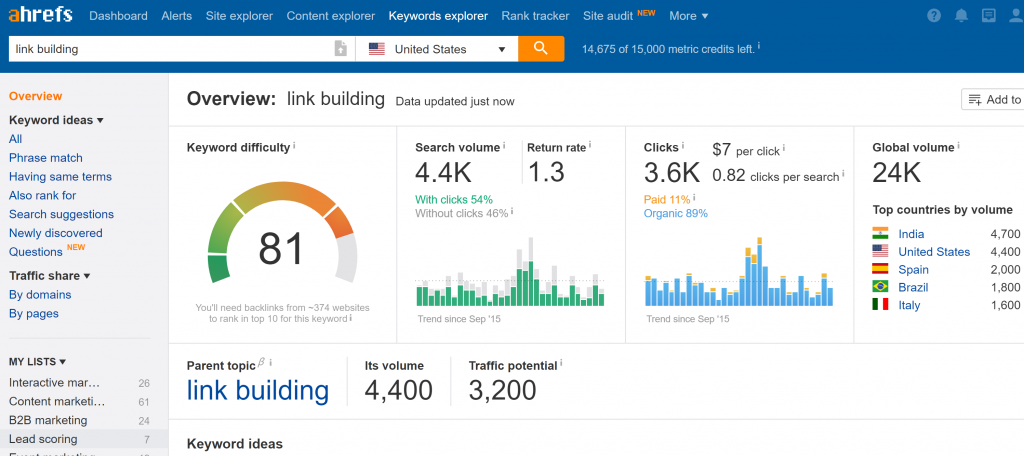 The main benefits of Ahrefs are its large backlink checking solution, its assistance in digging deeper into your competitors' search traffic, and its identification of what content generates better income.
The software offers the large, best backlink checking platform in the business. You can get a clear profile of any site or URL in one click. Ahrefs uncovers all you need, from anchors and links to backlinks' strength. You can even track backlinks and follow their development over time and send advanced reporting and smart filter features to find significant information rapidly.
Ahrefs also lets you see your competitor's search traffic through Positions Explorer tool. You can see what keywords they use to rank in search engines and discover what keywords are spent on their marketing and advertising campaigns. What's more, you can see the stream of organic and paid traffic they are getting.
We all know that content still rules that is why Ahrefs ensures that you know what type of content generated income. You can have the chance to see which content is mostly getting shared and sites that link to trending and popular content materials. Realizing what keywords are getting positioned and failed is critical in the competition for search tool results pages (SERPs). Ahrefs lets you track your keyword ranking in every single geographic location and language and lets you know how they perform on mobile devices.