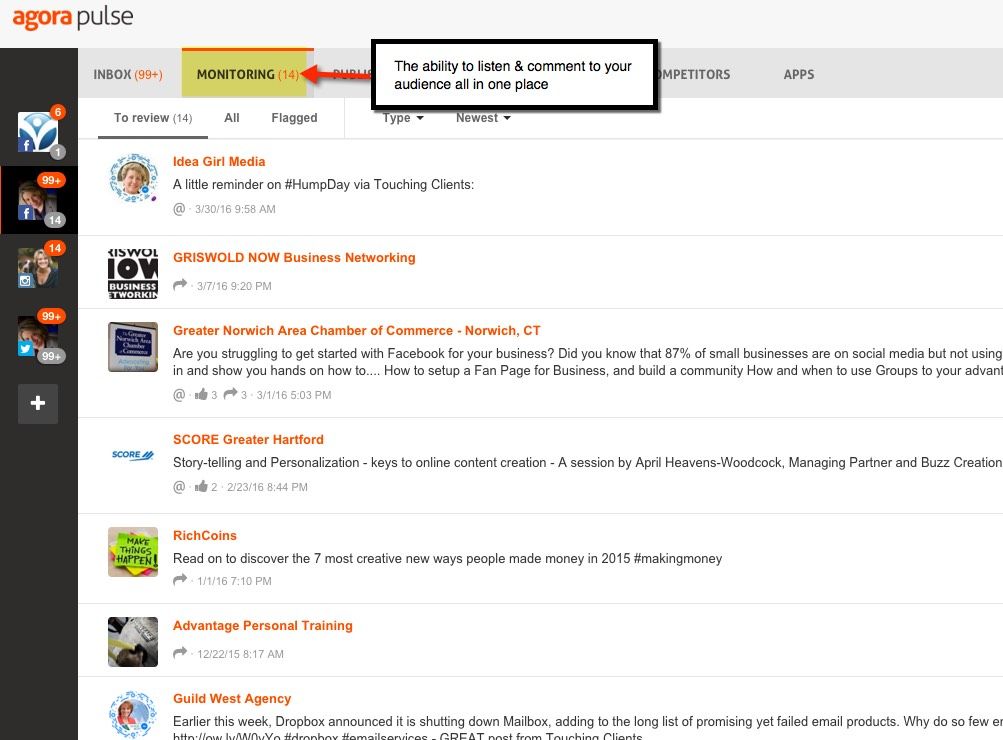 The main benefits of AgoraPulse are its single, centralized dashboard, capabilities that allow you to publish and schedule posts in a breeze, effective social media monitoring, and comprehensive reporting tools. Here are more details:
Single, Centralized Dashboard
Everything you need to know about your social media accounts is shown in a centralized dashboard so you can save time from going back and forth from one application to another. The platform presents all the comments, tweets, and messages received from various social media sites so all the users have to do is read, tag, delegate, or reply. Managing conversations is also a breeze. You can do it in less than 15 minutes so you will have more time to work on more important tasks or resolve important concerns.
Post Scheduling & Queuing Made Easier
Manual, daily post publishing tends to be time consuming and laborious. With AgoraPulse at disposal, users will be able to publish content, schedule a Twitter post, and share photos on Facebook easily. The platform also comes with a Calendar function that helps you visualize all your tweets and posts.
Effective Social Media Monitoring
AgoraPulse allows users to monitor their social media accounts and look for mentions, commentaries and even the content or post being shared. You can also see how many times a post has been shared, helping you discover effective content. This capability allows users to find out opportunities that can help scale their business.
Comprehensive Reporting Tools
With AgoraPulse, you will know which of your social media marketing campaigns work and which does not deliver results. It comes with comprehensive reporting tools. Moreover, the platform allows users to customize their reports and export it to PowerPoint in a breeze.